Thanks to All Mesothelioma Caregivers
November is National Family Caregivers Month. Being in the same month as Thanksgiving, this is a group that deserves our thanks – the unpaid caregivers. It is difficult to be the patient, or the sick one of the family, but caregivers have their own challenges. Over 90 million Americans care for others who have a disability, disease, chronic condition or are elderly. Caregivers range from parents taking care of sick children to grown adults taking care of their elderly parents.They cross all socio-economic demographics, but the majority are women.
Oftentimes taking care of a mesothelioma patient is a sudden role that you did not anticipate. One day you and your spouse are living your everyday life, and the next you have been dealt with a serious illness that needs action. Not only are you your spouse's support, but you are also the sounding board for decisions. Where do we go? What kind of treatment should we choose?
It sounds like a few easy questions, but it is not. It is a tough disease and the questions are not easy to answer. So once you have made decisions and the focus is totally on the patient – what about you, the caregiver?  At the mesothelioma center where I work, we feel the caregiver is just as important as the patient and we try to provide support for them as well. But the most difficult thing for the caregiver is to realize that they too are important.
From my Experience of Caregiving, it is a tough job to say the least. It is stressful emotionally, physically and financially. There are a lot of support options for mesothelioma caregivers. If you are at a mesothelioma center, there are probably onsite support groups. You may not think you have anything to add, but consider just showing up and seeing what others say. You may get some advice about how others are handling this challenging role.
Another often overlooked issue is physically taking care of yourself. Caregives must make sure to eat healthy and take an occasional walk. A thirty minute walk can do wonders. It can take you away from the hospital setting,  allow you to inhale fresh air and clear your mind. Caregiving is hard work so take breaks. If someone offers to lend a hand, let them, you can always reciprocate sometime. Learn how to communicate effectively with the medical team. Write down your questions. Keep them concise and prioritize which questions you want answered first.
There are many tips that can help the caregiver so please try out a support group or reach out to a social worker or clergy. Above all, give yourself credit for doing the best you can for your loved one.
Visit the following websites designed to support the family caregivers: Generations United, and National Alliance for Caregiving.
Thank you for all you do for your loved ones!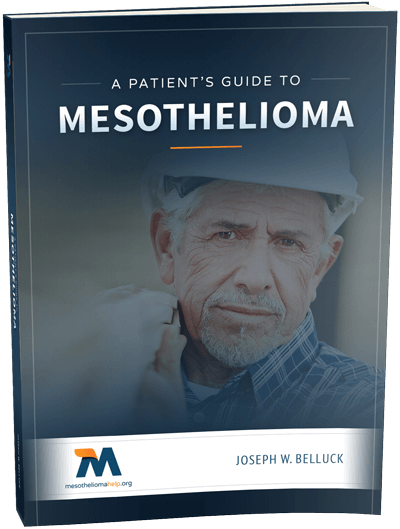 Free Mesothelioma Patient & Treatment Guide
We'd like to offer you our in-depth guide, "A Patient's Guide to Mesothelioma," absolutely free of charge.
It contains a wealth of information and resources to help you better understand the condition, choose (and afford) appropriate treatment, and exercise your legal right to compensation.
Download Now