Mesothelioma Patients Can Be Thankful for Enjoying the Comforts of Home on Thanksgiving
Dealing with mesothelioma anytime during the year is challenging, but some patients find managing their illness during the holidays even more stressful. If you have been diagnosed with mesothelioma and you are able to be home during the holidays, you may find that simply sitting back and enjoying your own decor and your Thanksgiving Day traditions with friends and family can ease your stress.
The support and joy of family on Thanksgiving "fortifies the spirit" and helps someone battling a serious illness feel less isolated, according to an article from Assisted Home Care, Inc. Having friends and family members stop by for a visit or a meal allows the mesothelioma patient to participate in the festivities along with everyone else.
Other reasons for staying in your own home on Thanksgiving when dealing with cancer include:
You Get A Break: Taking a break when in your own home is easy. If you are visiting someone else, you could feel like a burden if you have to leave early to rest. At home, however, you can slip away, take a nap, and return to the festivities.
You Can Educate the Family: The holidays may be the only time of the year you see some of your family members. Instead of trying to hide your illness, use the time as a way to educate them about mesothelioma and the demands it can take on you. This can help everyone better understand your daily struggles and let them better understand how to support you.
Take the Fear Away from the Youngsters: "Younger family members gain meaningful insight and learn new ways to adjust their own perspective when visiting an ill loved one during the holidays," according to Assisted Home Care. By visiting you in your home, children will be less afraid of the situation, and can learn about your illness right along with the adults. Seeing how their loved ones are affected by sickness "can inspire compassion and empathy" in the children.
If you are in a mesothelioma treatment program, take advantage of the support services and counseling services offered to help you cope with the holidays.  They can give you a healthy perspective on your feelings.
Even if you, or your loved one, are in the hospital over Thanksgiving, taking the time to think of something to be grateful for can lighten the mood.  Make sure you let your family members know if you are up for guests. Taking care of yourself is important and knowing when to say "no" is critical to your health and well-being.
Warm wishes for an enjoyable Thanksgiving from all of us at MesotheliomaHelp.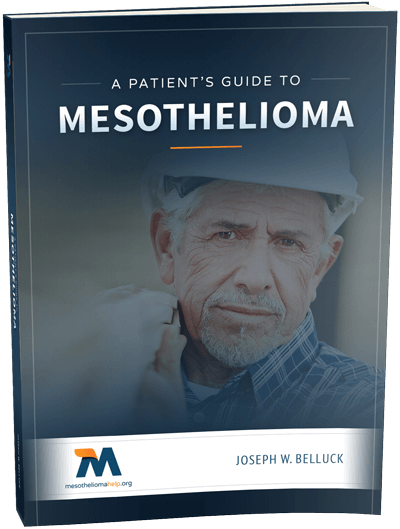 Free Mesothelioma Patient & Treatment Guide
We'd like to offer you our in-depth guide, "A Patient's Guide to Mesothelioma," absolutely free of charge.
It contains a wealth of information and resources to help you better understand the condition, choose (and afford) appropriate treatment, and exercise your legal right to compensation.
Download Now