Home is Sometimes the Best Place for Mesothelioma Patients
Home is where the heart is. There is no place like home. Home sweet home. One could say these are clichés, but I would disagree. We all say them, but sometimes it is what makes the difference.
We recently took care of a patient, who, unfortunately, had more than his fair share of complications. He was discharged from the hospital, to the local hospitality house, but he really had a tough time of it with an inability to sleep, pain, and generally feeling miserable all the time. When I visited him there he kept telling me how fatigued he was, and what an effort it was to keep his eyes open.
With a lot of encouragement he agreed to be  readmitted to the hospital. His wife was worried that he was not emotionally prepared to go back to the hospital, but with her support and encouragement he agreed. He received IV hydration, his pain medication was adjusted to alleviate symptoms, and after a few days he was discharged.
The team agreed that going home this time would be the best medicine for him. The first afternoon, he slept five hours in his own bed, and he continues to sleep well each night since he has been home. He has also begun to do light housekeeping, including vacuuming. Yes, he was tired but he is doing very well. The familiar surroundings are giving him a big emotional boost.
Sometimes going home is just what the mesothelioma patient and family need. It's the emotional part and stress that can really weigh us down and keep us stuck. The key is to get out of that trap and do something about it. His wife was his support and with her constant encouragement, he was able to persevere through this part of his mesothelioma journey.
Situations like this one are what keep the mesothelioma team energized. It really is so rewarding to hear of someone doing well after his struggle. This makes everyone feel good about what we do. If we could say thank you to all the fighters of mesothelioma out there, we would. If we could say thank you to all the caregivers out there, we would. We are in it together and we could not do it without you.
Know more about Mesothelioma and how you can deal with it.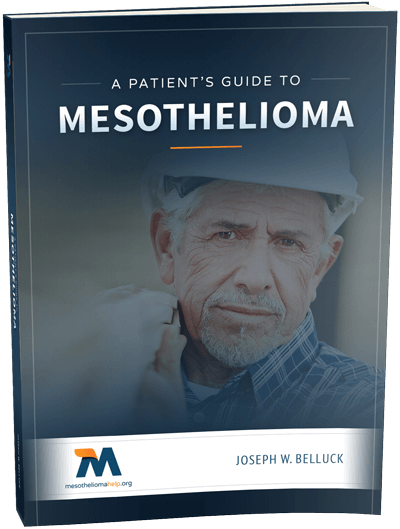 Free Mesothelioma Patient & Treatment Guide
We'd like to offer you our in-depth guide, "A Patient's Guide to Mesothelioma," absolutely free of charge.
It contains a wealth of information and resources to help you better understand the condition, choose (and afford) appropriate treatment, and exercise your legal right to compensation.
Download Now