Show Your Support for the Fight Against Mesothelioma
Each year in the United States, about 3,000 people receive the devastating diagnosis of mesothelioma, an aggressive cancer whose only known cause is exposure to asbestos. Mesothelioma is not a common cancer. It doesn't receive the attention and research funding support that other more well-known cancers receive. However, its effects are just as serious and life-changing to those patients who are fighting it.
That's why Mesotheliomahelp.org has launched a special fundraising campaign to raise awareness and support for the fight against mesothelioma. Money raised through this campaign will be donated to the Mesothelioma Applied Research Foundation, the only nonprofit organization dedicated to ending mesothelioma and the suffering caused by it.
To do your part in supporting the fight against mesothelioma:
1. Order an "I Support Mesothelioma Research" T-shirt from Booster.com. Wear it around town. Share photos of yourself in it on social media. Anything to raise awareness of the plight of those suffering from mesothelioma.
2. If you run a website or blog dedicated to helping those who have been diagnosed with mesothelioma, please add this badge to your website to show your support and encourage others to donate by purchasing a T-shirt.
3. Share this campaign on your social media accounts, and tell your friends how they can get involved in the fight against mesothelioma.
4. Feel good knowing that your donation to this campaign will go toward mesothelioma research at the Mesothelioma Applied Research Foundation, and that research may one day save lives.
At Mesotheliomahelp.org, we are dedicated to helping mesothelioma patients through their difficult journey. It is an uphill battle, and these patients deserve all the help — and hope — they can get.
We hope you and your organization will join Mesotheliomahelp.org in our fight for a cure. Get involved today!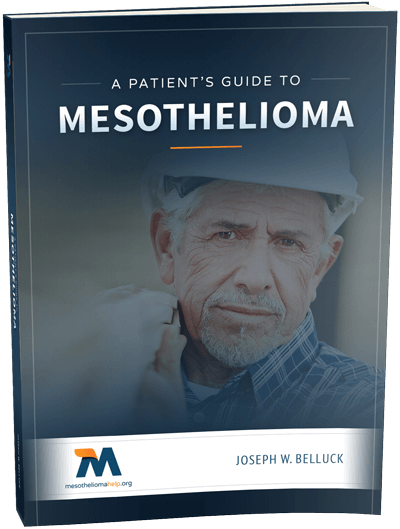 Free Mesothelioma Patient & Treatment Guide
We'd like to offer you our in-depth guide, "A Patient's Guide to Mesothelioma," absolutely free of charge.
It contains a wealth of information and resources to help you better understand the condition, choose (and afford) appropriate treatment, and exercise your legal right to compensation.
Download Now