microRNA Could Be the Key to Mesothelioma Development
Recently, microRNAs have received lots of attention as a significant scientific and medical discovery. They appear to play a major role in reprogramming a cell to undergo uncontrolled cell division, causing growth of cancerous tumors. Now, researchers believe the microRNA drives the development of lung cancer.
An important new study from Vanderbilt University  published December in The Journal of Clinical Investigation suggests the miR-31 microRNA is expressed at high levels in lung cancer tumors, and it is indicative of decreased survival.
http://www.jci.org/articles/view/82720
"We discovered that miR-31 is an independent survival factor, meaning that its expression impacts survival, independent of other factors such as tumor size, tumor burden and tumor location," said Christine Eischen, Ph.D., professor of Pathology, Microbiology and Immunology, Vanderbilt University, according to a Jan. 28 press release from Vanderbilt-Ingram Cancer Center. "That suggests it's very important."
https://news.vicc.org/2016/01/study-identifies-new-culprit-in-lung-cancer-development/
Although the research was focused on lung cancer, every new breakthrough in cancer research brings hope to mesothelioma patients. Pleural mesothelioma, an asbestos-caused cancer equally as aggressive as lung cancer, is diagnosed in close to 3,000 Americans each year.
microRNAs, or miRNAs, are tiny molecules found within cells that serve a function in primary biological processes such as organ development, fat metabolism, cell proliferation and death. They are single stranded molecules that regulate gene expression. When miRNAs function properly, a person remains healthy. However, disregulation of miRNAs can lead to diseases, including mesothelioma and other cancers. On the contrary, when used as therapeutic agents, miRNAs can inhibit tumor growth.
The Vanderbilt researchers began to focus on the miR-31 protein when they found elevated levels resulted in increased cell transformation to tumor-like cells and cell growth. Via mouse models injected with human lung cancer cells, the researchers confirmed increased lung tumors with miR-31 over-expression.
"When we left miR-31 on for longer and longer periods of time, we saw the formation of adenomas (benign tumors) and then lung carcinomas," said Eischen. "Mick [Mick Edmonds, Ph.D. and study lead] and I were thrilled with these results because no one had previously shown a microRNA could induce cellular transformation in the lung and cause cancer to develop."
The teams' findings suggest targeting miR-31 could lead to innovative treatment therapies to suppress tumor growth in patients with lung cancer, and potentially for malignant mesothelioma patients.
Targeted therapy for mesothelioma and lung cancer patients optimizes the potential for success of the treatment and offers treatment options that may not otherwise have been considered. There is no cure for mesothelioma.
The study was published in the Dec. 14 issue of The Journal of Clinical Investigation.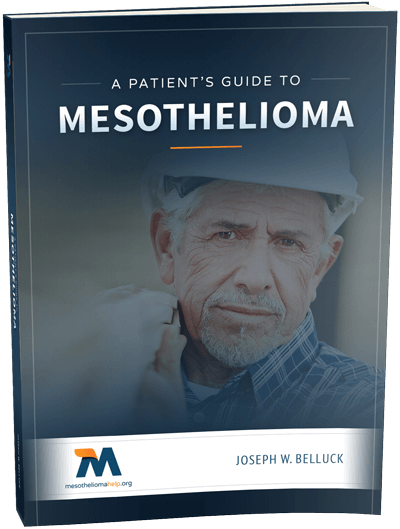 Free Mesothelioma Patient & Treatment Guide
We'd like to offer you our in-depth guide, "A Patient's Guide to Mesothelioma," absolutely free of charge.
It contains a wealth of information and resources to help you better understand the condition, choose (and afford) appropriate treatment, and exercise your legal right to compensation.
Download Now