Cancer Treatment Centers of America
Cancer Treatment Centers of America (CTCA) at Southwestern Regional Medical Center is Oklahoma's premier cancer treatment hospital. Richard J. Stephenson founded CTCA in 1988 in honor of his mother, who battled cancer. Due to his family's experience with cancer treatment, Stephenson desired to create a treatment facility that was patient-focused, caring, and emotionally sensitive to patients and their families.
This standard became known as the Mother Standard, which signifies that patient treatment from CTCA caregivers should be as nurturing as family. CTCA occupies a 195,845-square foot facility to serves its patients. Since patient satisfaction is the core focus of CTCA at Southwestern Regional Medical Center, patients and families were consulted to design the exterior and interior appearance.
Not only is the hospital appealing and accommodating, the facility houses the latest state-of-the-art imaging and diagnostic tools, as well as the latest advances in immunotherapy, chemotherapy, and surgery. CTCA at Southwestern Regional Medical Center is accredited by the Joint Commission on Cancer and received an Outstanding Achievement Award from the Joint Commission for meeting and exceeding the national standards in cancer patient care.
Cancer Treatments
As the only hospital dedicated solely to cancer treatment in Oklahoma, CTCA at Southwestern Regional Medical Center provides integrated treatment focusing on the mind, body, and spirit. Each patient is assigned to a team of cancer experts that meets regularly to evaluate treatment options and tailor a personalized care plan. A team will be headed by a Care Manager, who will coordinate treatments between a patient's medical oncologist, naturopathic provider, mind-body therapist, dietitian, and any other practitioner working on the case. Since all clinicians work under one roof, the patient receives all care in an expedient and coordinated manner.
The first step in mesothelioma treatment at CTCA is a complete and precise diagnostic evaluation. This evaluation takes place over several days and the end result is a 100 percent personalized treatment plan. Your treatment plan includes targeted, advanced medical therapies and pain treatment as well as mind-body wellness therapy. Advanced medical treatments for mesothelioma include surgery, radiation, and chemotherapy treatments. Surgery at CTCA uses innovative minimally invasive techniques, as well as video assisted technology to eradicate cancerous tissue. Participation in clinical trials and chemotherapy is evaluated through tumor molecular profiling, which is a procedure that identifies the proper level and combination of chemotherapy for each patient. Targeted radiation therapy may be used to destroy cancerous cells, reduce symptoms, and/or shrink tumors. CTCA has highly skilled and specialized staff that use the latest in radiation technology. CTCA owns and operates the latest technology in 3D conformal radiation therapy, IMRT, IGRT, TomoTherapy, and stereotactic radiosurgery.
CTCA specialist Daniel Nader, DO, FCCP, FACP, has years of experience in treating mesothelioma. Dr. Nader has garnered numerous titles at CTCA and is the acting National Clinical Director, Pulmonary/Critical Care, Chief of Staff, Director of the Lung Center and Interventional Pulmonologist. Since joining CTCA in 1991, he has performed over 6500 bronchoscopy procedures and has administered over 1700 high-dose rate brachytherapy treatments. He is nationally recognized by Castle Connelly and the U.S. News and World Report.
Source: www.cancercenter.com/southwestern/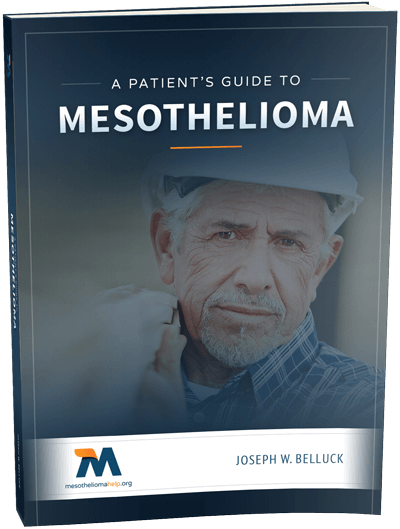 Free Mesothelioma Patient & Treatment Guide
We'd like to offer you our in-depth guide, "A Patient's Guide to Mesothelioma," absolutely free of charge.
It contains a wealth of information and resources to help you better understand the condition, choose (and afford) appropriate treatment, and exercise your legal right to compensation.
Download Now