John Theurer Cancer Center at Hackensack University
The mission of the John Theurer Cancer Center is to deliver extraordinary care that is multidisciplinary, personalized, innovative, and at the appropriate cost with superior outcomes to the most satisfied patients.
Throughout the past 25 years, John Theurer Cancer Center at Hackensack University Medical Center has become one of the largest and most comprehensive cancer centers in the United States. Today, we are a top 50 U.S. News and World Report Best Hospitals for cancer – the highest-ranked cancer center in New Jersey with this prestigious designation. Learn more about our ranking.
Year after year, we have harnessed the newest technologies and retained world-class physicians, nurses and scientists to help service the needs of our patients within our 14 specialized cancer divisions.
Background
John Theurer Cancer Center at Hackensack University Medical Center provides patients with an expert team of cancer specialists who rely on the latest diagnostic and treatment technologies to battle all forms of cancer, even in its most difficult forms. In operation for over 25 years, John Theurer Cancer Center ranks as one of the country's largest cancer specialty centers. U.S. News & World Report has designated John Theurer Cancer Center as a top 50 hospital for cancer, making it the highest ranked hospital in New Jersey with that recognition.
Within John Theurer Cancer Center, there are fourteen specific cancer treatment divisions, including the Division of Thoracic Oncology. The Center emphasizes several key aspects of cancer care: bringing the multidisciplinary treatment paradigm to its next level by offering teams of disease-specific experts; delivering personalized medicine using innovative and varied forms of therapies and treatments; advancing cancer research through cutting-edge translational research and clinical trials; and providing holistic treatment in a comforting environment.
To provide the best clinical and social experience for patients, in 2010 John Theurer Cancer Center opened a new complex that brings all of its services under one roof. The $130 million, five-floor comprehensive cancer facility includes an atrium with a living wall of hydroponically grown plants that not only brings beauty into every patient's experience at the center, but also cleans the building's indoor air of contaminants. The wall includes a waterfall that further enhances the sense of peace and growth embodied in the new structure.  The new building expands John Theurer Cancer Center's research assets to help its staff strive for ever-better patient outcomes.
Cancer Treatment
Each of John Theurer Cancer Center's fourteen treatment divisions is supported by staff who specialize in medical, nursing, research, nutrition, and psychosocial services.
Depending on a patient's needs, available treatment technologies include Helical TomoTherapy radiation therapy, which is an enhanced form of intensity modulated radiation therapy that allows unprecedented individualized radiation treatment delivered to the exact location targeted within the patient's body. Also available at John Theurer Cancer Center are the most advanced forms of Gamma Knife Radiosurgery, TrueBeam image-guided radiotherapy, da Vinci Surgical System robotic surgery, and the largest photophoresis treatment center in the world.
The Thoracic Oncology Division at John Theurer Cancer Center brings together experienced specialists who devote their efforts to healing patients with lung cancer and other cancers affecting the chest. The experts include medical and radiation oncologists, radiologists, thoracic surgeons, pulmonologists, and oncology nurses. Patients receive treatment for not only their cancer, but all of the difficulties cancer patients inherently experience as they undergo diagnosis, treatment, recovery, and rehabilitation.
Mesothelioma specialists at John Theurer Cancer Center include Dr. Bernard Park, Co-Chief of the Thoracic Oncology Division, who has expertise in thoracic oncology, treating lung and esophageal cancers including mesothelioma, lung metastases, and mediastinal cancers.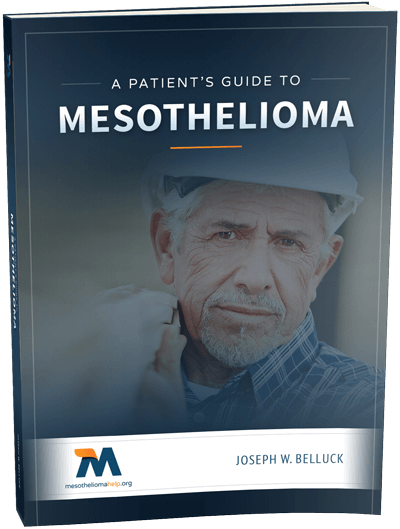 Free Mesothelioma Patient & Treatment Guide
We'd like to offer you our in-depth guide, "A Patient's Guide to Mesothelioma," absolutely free of charge.
It contains a wealth of information and resources to help you better understand the condition, choose (and afford) appropriate treatment, and exercise your legal right to compensation.
Download Now