Leon Hess Cancer Center at Monmouth Medical Center
Background of the Leon Hess Cancer Center: The Leon Hess Cancer Center was created to continue Monmouth Medical Center's (MMC) 40-year history in preventing, detecting, and treating cancer. For the past 25 years, MMC's cancer services have been approved by the American College of Surgeons Commission on Cancer as a teaching hospital cancer program.
The Leon Hess Cancer Center provides inpatient and outpatient cancer care; a range of surgical, medical, and radiation treatments customized for each patient; and several Multidisciplinary Disease Site Centers that focus on different types of cancer, including a thoracic oncology/lung cancer center. Other centers treat gastrointestinal, head and neck, prostate, and gynecological cancers.
The Hess Center also houses the David S. Zocchi Brain Tumor Center, Jacqueline M. Wilentz Comprehensive Breast Center, and the Valerie Fund Children's Center. The Zocci Center sponsors an open clinical trial to test Gamma Knife technology to treat advanced brain cancers and gliomas.
Thoracic Oncology Care at the Leon Hess Cancer Center
The thoracic oncology team at the Leon Hess Cancer Center includes physicians and surgeons who specialize in lung cancer treatment, such as mesothelioma:
Pulmonologists who specialize in diagnosing lung cancer
Radiologists who diagnose lung cancer through x-rays
Pathologists who specialize in evaluating lung tissue for cancer
Thoracic surgeons with specialties in lung tumor surgery
Radiation oncologists who apply radiation therapy specifically to treat lung cancer
Other team members include RNs; pain management specialists; respiratory therapists; physical and occupational therapists; nutritionists; and social workers. Providing psychosocial support is a key piece of the treatment plan that Leon Hess provides to patients and their families.
Surgical Services at Leon Hess Cancer Center
Lung cancer patients recommended for surgery are evaluated for operations that remove cancerous tissue and sections and restore as much lung function as possible. Depending on the patient's condition, the extent of the cancer, and where it is located, surgeons may decide to take out a small part of the lung including any tumor and some surrounding tissue (wedge resection), or the lung's entire lobe (lobectomy). A sleeve lobectomy removes part of the bronchus and connects the new ends. A pneumonectomy removes an entire lung. Surgeons can remove part of the chest wall (resection) to take out a tumor growing there.
Whenever possible, surgeons will go with minimally invasive surgery instead of open-chest operations. Leon Hess surgeons use video-assisted thoracoscopic surgery (VATS) that let them see and operate from inside the body. Patients recover more quickly from VATS and report less pain.
MMC is the only hospital in the Jersey Shore region to offer the robotic da Vinci® S Surgical System. It is used to perform more technically difficult minimally invasive surgeries and lets surgeons move their instruments more precisely.
Chief of Thoracic Surgery, Director of Minimally Invasive and Robotic Thoracic Surgery, and Assistant Program Director of General Surgery Residency at Monmouth Medical Center Loki Skylizard brings his expertise in a variety of surgical approaches including advanced endoscopy and Video Assisted Thoracic Surgery (VATS).
Radiation Services at Leon Hess Cancer Center
Leon Hess radiologists treat patients in MMC's Institute for Advanced Radiation Oncology with 3D radiotherapy, brachytherapy, and body radiosurgery.
MMC was the first hospital on the East Coast to use the most advanced form of 3D radiotherapy technology; in fact, the manufacturer (Siemens) chose MMC to be a model site.
Chemotherapy and Clinical Trials at Leon Hess Cancer Center
Medical treatments to fight lung cancer are directed by Leon Hess's medical oncologists and include chemotherapy, biotherapy, and targeted therapies.
Chemotherapy involves using very strong medications to destroy, shrink, or stop the cancer cells and tumors from growing or reforming. They can be injected, infused through an IV, or taken by pill or liquid.
Biotherapy is a relatively new treatment that uses vaccines or blood products like plasma to fight cancer cells by stimulating and helping the body's immune system. Targeted therapies prevent cancer cells from growing and spreading.
Lung Clinical Trials at Leon Hess Cancer Center
Leon Hess is participating in three clinical trials aimed at fighting lung cancer. Two are medication studies and one is looks at using low dose CT Scans to screen for lung cancer.
Source: http://www.rwjbh.org/monmouth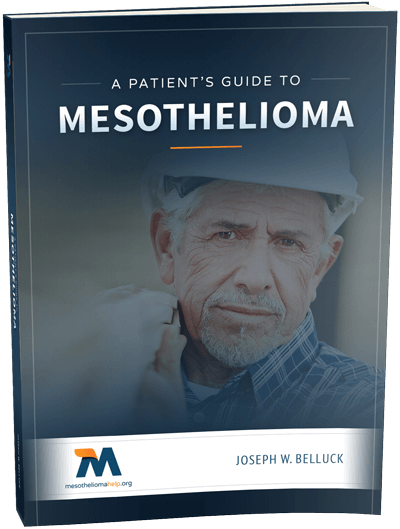 Free Mesothelioma Patient & Treatment Guide
We'd like to offer you our in-depth guide, "A Patient's Guide to Mesothelioma," absolutely free of charge.
It contains a wealth of information and resources to help you better understand the condition, choose (and afford) appropriate treatment, and exercise your legal right to compensation.
Download Now