NYU Medical Center/Perlmutter Cancer Center
Background
The New York University Cancer Institute was founded at the NYU Langone Medical Center in 1975 and was awarded status as a National Cancer Institute comprehensive center ever since. In 1991, the Cancer Institute and the Nelson Institute of Environmental Medicine merged to foment an interdisciplinary program targeted at understanding the role of the environment on the development and prognosis of cancer. Close collaboration occurs with the NYU School of Medicine's Sackler Institute of Graduate Biomedical Sciences and medically affiliated programs that conduct research on the genetic and biomolecular basis of cancer. In 2013, the NYU Cancer Institute changed its name to the Laura and Isaac Perlmutter Cancer Center after a gift of $50 million to promote cancer research and treatment.
The NYU Perlmutter Cancer Center carries a long tradition of cancer care and research excellence in the fields of:
Cancer immunology

Environmental and molecular carcinogenesis

Cell proliferation

Cancer epidemiology

Stem cell biology

Breast cancer

Genitourinary cancer

Hematologic malignancies

Melanoma

Gastrointestinal cancers

Melanoma

Thoracic cancers
The NYU Perlmutter Cancer Center receives an estimated $42.6 million each year to conduct oncological research from the National Cancer Institute. The facility totals over 31,500 square feet to combine the traditional cancer hospital with laboratory and research facilities. NYU Perlmutter Cancer Center participates in the NYU Lung Cancer Biomarker Center research study to identify and validate biomarkers of lung cancer so patients get the specialized care they deserve.
The NYU Perlmutter Cancer Center's commitment to cutting-edge research and patient-centered therapies continues to support its ranking and accolades in the US News and World Report as one of the "Best Cancer Hospitals" in the US. NYU researchers have made potential breakthrough discoveries in the treatment of mesothelioma.
Mesothelioma Treatments
Perlmutter Cancer Center specializes in the treatment of complex lung disease and mesothelioma in the Multidisciplinary Thoracic Oncology Care Clinic. Perlmutter Cancer Center's collaboration with world-class cancer and biomedical research occurring at NYU and neighboring research institutions allows patients to participate in the latest clinical trials and procedures.
Each case is individual and every treatment course is different. Patients begin with a comprehensive exam with the latest diagnostic tools to better characterize his or her case of mesothelioma. High-resolution characterization lets physicians and technicians target cancer treatment. NYU Radiology offers one of the widest ranges of imaging equipment and is one of the nation's premier sites of radiology research. Low-dose CT scans, PET/CT, MRI, ultrasound, x-ray, nuclear medicine, 3D imaging, autofluorescence bronchoscopy, endobronchial ultrasound, and minimally invasive interventional radiology are all a part of the vast array of technological instrumentation employed.
After diagnostic procedures are completed, a team of mesothelioma specialists, oncologists, thoracic surgeons, radiologists, and pathologists review your case together. They will recommend a jointly administered and coordinated plan for treatment that usually involves a multimodal approach of chemotherapy, surgical, and radiation oncology. Possible enrollment in clinical trials, minimally invasive surgery, targeted radiation therapy and radiofrequency ablation, photodynamic therapy, endobronchial and esophageal stenting, and combinational treatment are approaches used to treat mesothelioma.
The NYU Cancer Institute, along with thoracic surgeon Harvey Pass, MD, medical oncologist Roman Perez-Soler, MD, and radiation oncologist Stephen Rush, MD, offers distinguished specialists in mesothelioma treatment. They operate and/or direct many innovative treatments, as well as piloting clinical trials. As a result of Dr. Pass' mesothelioma research, he and his team discovered osteopontin, a biomarker of mesothelioma exposure, which allows physicians to accurately diagnose mesothelioma through a minimally invasive blood test, rather than a lung tissue biopsy.
In addition to the mesothelioma treatments listed above, the Perlmutter Cancer Center provides holistic patient-focused services through its Supportive Services Program. Patients will have the opportunity to gain access to social workers, cancer dieticians, nutrition counseling, psycho-oncology services, support groups, palliative care, physical rehabilitation services, art therapy, and cancer seminars and workshops.
Search more Mesothelioma Doctors & Specialists on our database.
Source: http://nyulangone.org/locations/center-for-musculoskeletal-care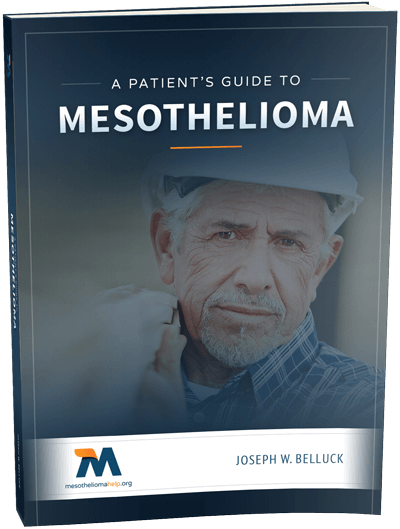 Free Mesothelioma Patient & Treatment Guide
We'd like to offer you our in-depth guide, "A Patient's Guide to Mesothelioma," absolutely free of charge.
It contains a wealth of information and resources to help you better understand the condition, choose (and afford) appropriate treatment, and exercise your legal right to compensation.
Download Now