University of Kansas Cancer Center
Background
The University of Kansas Cancer Center (KUCC) is an affiliate of the University of Kansas Hospital and Medical Center. The KU Medical Center was established in 1906 as a teaching and academic hospital. Over the years, the hospital has continued to grow and currently operates as a non-profit institution.  In 1998, the KU Medical Center established the University of Kansas Cancer Center. Throughout its history, KUCC has been at the forefront of the integration of laboratory research with patient care, and its excellent reputation has made KUCC the founder of the Midwest Cancer Alliance, an organization that seeks to bring together the best research, physicians, and support professionals in the Heartland to collaborate on cancer prevention and treatment.
Due to KUCC's focus on patient care, basic and clinical research, prevention, education, outreach and training, KUCC ranks among the top cancer centers in the US and is the only National Cancer Institute-designated cancer center in Kansas. Among its numerous prestigious awards and accolades, KUCC is ranked nationally as one of the best hospitals for cancer care by the U.S. News and World Report and is ranked #15 nationally in Pulmonology.
KUCC is affiliated with many treatment centers and research institutes to best serve its patients by providing care closer to home and to expedite the latest in research achievements directly to the bedside. Affiliate and collaborating locations are the University of Kansas Hospital, Kansas Masonic Cancer Research Institute, the University of Kansas Clinical Research Center, and the Richard and Annette Bloch Cancer Care Pavilion.
Cancer Treatments
KUCC is situated to provide the latest research developments, leading to improved cancer treatment options. The integrated research environment provides collaboration of laboratory scientists and physicians within clinical, translational, and prevention research studies.
With regard to mesothelioma, KUCC organizes teams of highly skilled staff to facilitate mesothelioma treatment. After referral or diagnosis by a primary care physician, a team of pathologists, surgical and medical oncologists, thoracic surgeons, nurses and social workers will handle your case together. Several specific, innovative treatments are being researched in addition to the comprehensive cancer treatments listed below.
Radiation oncology, surgical oncology, clinical trials, chemotherapy, palliative care, state-of-the-art diagnostics and imaging services, pathology, genetic counseling, hormone therapy, biological therapy, complementary and alternative medicine, nutrition and physical therapy, and comprehensive and preventive care are all options in the KUCC's cancer treatment program.
Check out our database of Mesothelioma Doctors & Hospitals.
Source: https://www.kucancercenter.org/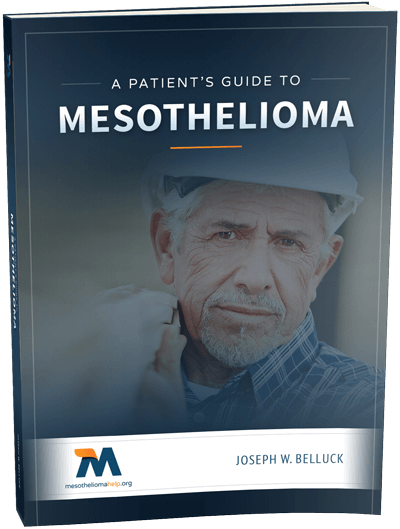 Free Mesothelioma Patient & Treatment Guide
We'd like to offer you our in-depth guide, "A Patient's Guide to Mesothelioma," absolutely free of charge.
It contains a wealth of information and resources to help you better understand the condition, choose (and afford) appropriate treatment, and exercise your legal right to compensation.
Download Now