University of California Los Angeles Medical Center
 Background
The UCLA Medical Center was founded in 1955. It became Ronald Reagan UCLA Medical Center in 2008 and reopened in a new 10-story, state-of-the-art structure. This facility provides the latest medical advances in a warm environment that's designed to encompass light and open spaces.
Located on four acres of the UCLA campus in West Los Angeles, the hospital includes Ronald Reagan UCLA Medical Center, Stewart and Lynda Resnick Neuropsychiatric Hospital at UCLA, and Mattel Children's Hospital UCLA.
Every floor of Ronald Reagan UCLA Medical Center is devoted to a different specialty and has the most advanced equipment for that particular health area. In addition, each floor has its own satellite pharmacy, dialysis storage, respiratory therapy workrooms, and resident doctor sleep rooms.
During the late 1960's, a group of scientists and volunteers at UCLA decided to develop a cancer center to provide patient care, research, and education. The Cancer Center at UCLA was named comprehensive by the National Cancer Institute (NCI) in 1976.
Today UCLA's Jonsson Comprehensive Cancer Center (JCCC) is one of only 41 cancer facilities to receive comprehensive status from the NCI. This is because JCCC is known to provide excellent patient care, clinical research, education, and cancer prevention.
Cancer Treatments
The JCCC is an internationally known facility that develops new cancer therapies while also supplying both experimental and traditional treatments. Successful cancer treatments have been produced in UCLA's laboratories such as Herceptin, a targeted breast cancer drug, and Avastin, a drug that treats colorectal and lung cancers.
More than 240 physicians and scientists apply their knowledge and expertise to JCCC, helping over 20,000 patients each year. In addition, JCCC medical professionals conduct hundreds of clinical trials and provide cutting edge cancer treatments.
As one of the country's largest comprehensive cancer centers, JCCC is focused on research and translating results into successful treatments of this disease. Because of its work, JCCC has an international reputation for creating cutting edge cancer therapies and providing high quality experimental and traditional methods to patients.
JCCC works together with people in every aspect of cancer, studying survivors and investigating the causes and behaviors of the disease in order to understand how to prevent cancer from beginning in or returning to the lives of patients. Many of JCCC's scientists are also doctors and educators. Therefore, they know this disease from many different angles and are committed to finding effective cures.
UCLA offers clinical trials in the Los Angeles area and across the country as well. Patients can search through a database to find trials that relate to their condition. In addition, they have the option of calling the Clinical Trials Hotline to get the most updated information on trials and studies that could improve their treatment programs.
The Oncology Program and the Division of Cardiac and Thoracic Surgery, parts of UCLA's distinguished Lung Cancer Program, provide care and treatment for patients with mesothelioma, lung cancer, and thoracic diseases related to thoracic issues. To determine effective approaches, a team of specialists and support staff evaluates each patient's case and develops a customized treatment plan.
There are several specialists who have extensive experience treating mesothelioma. In addition, patients have access to a number of treatment methods, including surgical procedures, chemotherapy/targeted therapy, radiation therapy, and clinical trials. Annually, the institute has more than 240 physicians and scientists care for and devise effective remedies to treat over 20,000 patient visits.
Furthermore, JCCC is one of the country's largest Comprehensive Cancer Centers. This designation by the National Cancer Institute (NCI) is only offered to institutions that maintain the highest standards of excellence in patient care, education, basic science, clinical research, and cancer prevention.
Mesothelioma is an unusual kind of cancer that is difficult to diagnose. It typically appears in the lining of the lung, chest, or abdomen and presents symptoms that are similar to other cancerous diseases. People who struggle with mesothelioma have had frequent exposure to toxic materials such as asbestos over the long-term. In fact, the signs of mesothelioma often don't make themselves known for approximately 15 to 60 years.
In addition to treating a wide variety of common cancers, JCCC is also equipped to care for patients suffering from more rare forms of this disease, including mesothelioma. Through the Thoracic Oncology Program and the Division of Cardiac and Thoracic Surgery within UCLA's Lung Cancer Program, patients who have mesothelioma, lung cancer and other types of thoracic malignancies have a place to turn. The cancer center offers a team of specialists and support staff that work together to evaluate each patient and determine a customized treatment plan.
JCCC has a number of specialists who have the knowledge and experience to treat patients with mesothelioma. These experts are skilled in the most advanced techniques, including chemotherapy, radiation therapy and surgery. They also have access to the most state-of-the-art technology to diagnose and care for patients who live with mesothelioma.
The UCLA Lung Cancer Program is one of the country's seven institutions awarded the NCI's Specialized Programs of Research Excellence (SPORE), which is a grant that promotes collaborative, interdisciplinary translational cancer research. The researchers who are part of this program have created several targeted cancer therapies conducted at UCLA laboratories, including the lung cancer drug called Tarceva.
Mesothelioma specialists at the University of California Los Angeles Medical Center include Dr. Robert B. Cameron, a cardiothoracic surgeon and surgical oncologist, whose expertise includes treating malignant pleural mesothelioma.  Dr. Cameron is the Director of Thoracic Oncology and Assistant Professor of Cardiothoracic & Surgical Oncology at UCLA School of Medicine.  He is also the Chief of General Thoracic Surgery at Wadsworth Veterans Administrative Hospital.
Seek help from a qualified medical professional or health care facility that specializes in treating this complicated cancer. Check out our database of Mesothelioma Doctors & Hospitals.
Source: http://www.ucla.edu/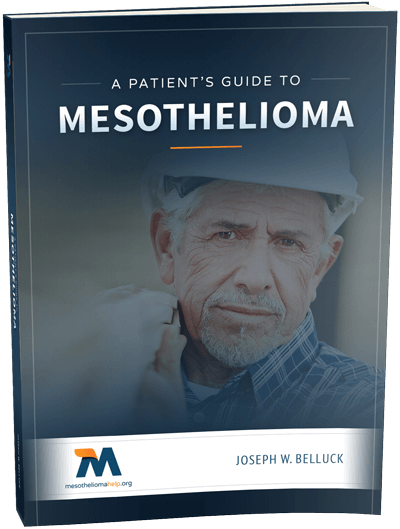 Free Mesothelioma Patient & Treatment Guide
We'd like to offer you our in-depth guide, "A Patient's Guide to Mesothelioma," absolutely free of charge.
It contains a wealth of information and resources to help you better understand the condition, choose (and afford) appropriate treatment, and exercise your legal right to compensation.
Download Now