Investigational Drug Effective in Treatment of Pleural Mesothelioma
In January, MesotheliomaHelp reported that the U.S. Food and Drug Administration granted orphan drug designation to Boehringer Ingelheim's investigational drug nintedanib for the treatment of mesothelioma. Now, in the announcement of clinical trial results at the International Association for the Study of Lung Cancer Multidisciplinary Symposium in Thoracic Oncology, the company reports the drug has been found to be "safe and effective" treatment for patients with pleural mesothelioma.
The phase II/III trial, known as the LUME-Meso trial, is designed to evaluate nintedanib (BIBF 1120) when combined with the chemotherapy duo pemetrexed / cisplatin for the treatment of patients with unresectable malignant pleural mesothelioma. The results of 87 patients in the trial, showed that the 44 treated with nintedanib demonstrated improved progression free survival (PFS) and a trend for prolonged overall survival (OS). In addition, patients with epithelioid malignant pleural mesothelioma, the most common and most treatable subtype, experienced the "greatest benefit from nintedanib treatment" with a PFS of 9.7 months vs. 5.7 months, and OS of 20.6 months vs. 15.2 months.
Currently, the standard of care for pleural mesothelioma is the combination chemotherapy of pemetrexed and cisplatin.
"Nintedanib strongly inhibits malignant pleural mesothelioma tumor growth in human xenograft models and reduces the colony-forming capacity and migratory activity of malignant pleural mesothelioma cell lines," said José Barrueco, executive director of global clinical development of oncology at Boehringer Ingelheim, as reported in HemOnc Today. https://www.healio.com/hematology-oncology/lung-cancer/news/online/%7Bfef3c4aa-ac73-4940-b8ef-2834a95e0427%7D/nintedanib-shows-promise-for-malignant-pleural-mesothelioma?page=2
According to Boehringer Ingelheim, the maker of nintedanib, the drug is an oral triple angiokinase inhibitor which simultaneously inhibits vascular endothelial growth factor receptors (VEGFR 1-3), platelet-derived growth factor receptors (PDGFR) and fibroblast growth factor receptors (FGFR 1-3) signaling pathways.
"The safety profile was manageable and consistent with previous nintedanib studies, and it did not compromise delivery of the backbone chemotherapy," Barrueco said.
Talk to your oncologist to find out if you are a candidate for the trial. Mesothelioma patients are currently being recruited worldwide, including in the U.S., Australia and Canada, for the trial. To find out more, see ClinicalTrials.gov. https://clinicaltrials.gov/ct2/results?term=%22malignant+mesothelioma%22&recr=Open&pg=1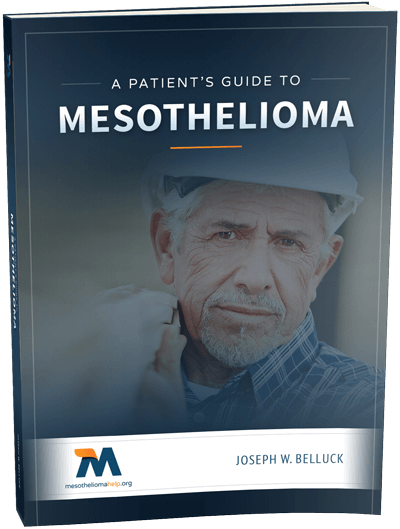 Free Mesothelioma Patient & Treatment Guide
We'd like to offer you our in-depth guide, "A Patient's Guide to Mesothelioma," absolutely free of charge.
It contains a wealth of information and resources to help you better understand the condition, choose (and afford) appropriate treatment, and exercise your legal right to compensation.
Download Now