Researchers Test Gastric Cancer Drug for Treatment of Pleural Mesothelioma
Malignant pleural mesothelioma is an aggressive respiratory cancer and remains difficult to control. Researchers keep searching for new treatment options to help mesothelioma patients live longer with the disease.
In a recent article in the medical journal Cancer, Chemotherapy and Pharmacology, Japanese researchers explore the effectiveness of a new anti-tumor drug known as S-1 for treating malignant pleural mesothelioma, which is closely associated with breathing asbestos.
The incidence of malignant mesothelioma is increasing worldwide with an expected peak in 2030 to 2040 in Asia and sooner in the U.S. and Europe. Complicating the treatment of mesothelioma is the fact that symptoms of asbestos-related cancer such as coughing, fluid around the lungs and chest pain are common to other conditions and mesothelioma often isn't diagnosed until the disease has reached an advanced stage. In addition, mesothelioma patients are typically older and in weaker health. The standard treatment for advanced mesothelioma is a one-two punch of the chemotherapy drugs, pemetrexed and cisplatin. Yet, the overall prognosis for mesothelioma patients remains poor.
S-1, a chemotherapy drug that is taken orally, was developed by the Japanese drug manufacturer, Taiho Pharmaceutical Co. and is sold under the brand name Teysuno. It is used to treat patients with gastric cancer in Japan, Korea, China and other Asian countries. It was recently recommended for approval as a first line treatment for gastric cancer in Europe, but is not yet available in the U.S.
S-1 is designed to prevent the growth of cancer cells and also to enhance the effectiveness of another anti-cancer medication, 5-FU. To test the drug's effectiveness on mesothelioma, researchers at the University of Tokushima implanted malignant mesothelioma cells into the chest cavities of mice. Their intent was to see whether S-1 would reduce the growth of cancerous tumors and the occurrence of bloody pleural fluid caused by mesothelioma.
The researchers reported that treatment with S-1 significantly reduced tumor growth in mice with certain lines of mesothelioma cells and prolonged their survival. One of the key compounds in S-1 is CDPH, which enhances the antitumor activity of 5-FU as well. Since human patients are typically diagnosed in the later stages of mesothelioma, the researchers delayed treating the mice until their tumors were advanced. They still responded to the chemotherapy and it prolonged their survival, suggesting that S-1 may be applicable for treatment of human mesothelioma patients in a clinical setting.
The research suggests that S-1 may be an effective therapy for controlling malignant pleural mesothelioma.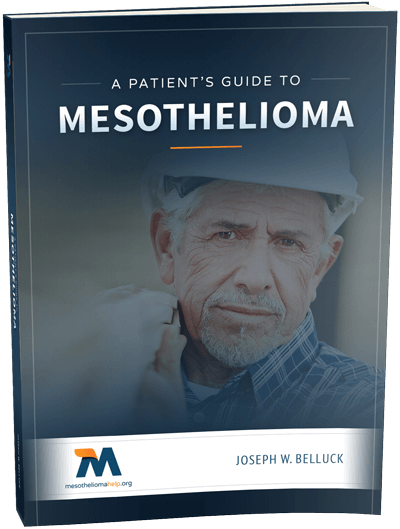 Free Mesothelioma Patient & Treatment Guide
We'd like to offer you our in-depth guide, "A Patient's Guide to Mesothelioma," absolutely free of charge.
It contains a wealth of information and resources to help you better understand the condition, choose (and afford) appropriate treatment, and exercise your legal right to compensation.
Download Now