Category:
Patients
Nutrition and exercise plays an important part in a person's journey with Malignant Mesothelioma.  Recovering from Mesothelioma treatment can be difficult. Whether it is recovering from chemotherapy, radiation, or surgery it can be challenging regardless of the type of treatment you have experienced. 
Nutrition can play a key role in recovering from your treatment. Choosing foods that are high in protein and fat will offer the most reward. Offering starchy foods or carbohydrates like pasta, bread, potatoes and sources of protein like fish, chicken, meats, nuts, turkey, and cheese are great options. For many, these food choices can be overwhelming and difficult to eat. Breaking down meals to smaller portion sizes and more frequently may be easier. If food is not the best choice, drink high calorie protein drinks.  There are many protein drinks available to suit your needs and taste. We have cared for many people who have undergone surgery or chemotherapy and food is the last thing they can enjoy. 
We encourage patients to weigh themselves weekly to monitor progress. Eating when recovering can be a huge chore for some and can become a daunting task. If possible, try to eat one more thing than you did the day before. 
For many their taste buds have been altered. Many times, we hear that food has a metallic taste when receiving chemotherapy. Just keep trying foods and taking in calories. Along the road to recovery things change. If you are recovering from surgery or chemotherapy the taste buds will change again. Maybe the food that tasted awful a few weeks ago will taste better down the road.
Many medical centers where one receives their care can provide nutritional support with nutritionists. Adequate nutrition to maintain energy, muscle mass and your weight may help with tolerating your treatment better. The American Cancer Society states, proper nutrition during treatment supports your immune system and may lower your risk of infection and help you heal and recover faster."
Many people attempt to  continue with their exercise regime throughout treatment, and others never had a regime and become engaged in one.  Walking is one of the easiest and accessible forms of exercise. Whatever your choice of exercise is there are many benefits to it while recovering from your treatment with cancer. Exercise can lower your risk of depression, anxiety, improve sleep and reduce the risk of developing other chronic diseases. Many people include stretching and breathing exercises as well.
Healthier lifestyles can result in improvement of quality and length of life for some cancer survivors, according to the National Cancer Institute.   Surround yourself with people who will maintain positivity and cheer you on. The benefits of developing a healthier diet and exercise habits during treatment may carry over into survivorship. According to the National Cancer Institute, research suggests that these healthier behaviors may improve the quality and length of life of some cancer survivors. If you have questions, reach out to your treatment center and see what support is available to you. There are many support systems to help with nutrition. Patients who have journeyed before you with the same issues are often  willing to share what worked for them, when recovering from and living with Mesothelioma.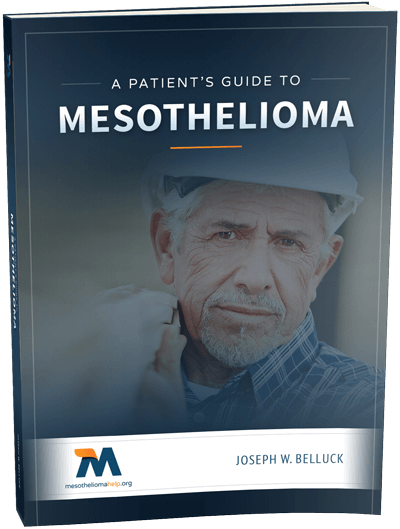 Free Mesothelioma Patient & Treatment Guide
We'd like to offer you our in-depth guide, "A Patient's Guide to Mesothelioma," absolutely free of charge.
It contains a wealth of information and resources to help you better understand the condition, choose (and afford) appropriate treatment, and exercise your legal right to compensation.
Download Now