Learn About Mesothelioma During Lung Cancer Awareness Month
For many people, November means apple cider, pumpkin pie, and Thanksgiving. In the health and medical fields, November is Lung Cancer Awareness Month, which emphasizes education and awareness of all things about lung cancer and other cancers affecting the respiratory system – such as mesothelioma.
The Ebola crisis that made headlines this October shows how easy it is to misunderstand or, worse, twist information about disease and health. Teaching the facts about mesothelioma, its symptoms, and its causes can help patients, family members, and friends better understand the disease and help advocate for the community.
Let's Get the Facts Straight About Mesothelioma
In the spirit of Lung Cancer Awareness Month, here are some basic facts about mesothelioma that patients, family members, and friends can share with others.
Mesothelioma is not contagious. No one can "catch" it.
Some people that have mesothelioma blog about it and are okay if you ask them questions.
The only known cause of mesothelioma is exposure to asbestos, a mineral with long, thin fibers that were inhaled or swallowed by people who worked around it. Other people who lived with those who worked with asbestos and carried fibers home on their clothing also breathed them in and can develop the cancer.
More than one-third of U.S. mesothelioma patients were exposed to asbestos during military service.
There are treatments for mesothelioma and others are being tested in medical trials in the U.S. and around the world, but there is no cure.
Although there are many bans on using asbestos, it is still allowed in some industries and products such as car brakes. It is still found in many older homes and buildings. Asbestos is not banned in the U.S.
Asbestos is not dangerous until it breaks, flakes, or is somehow disturbed. For that reason, people who renovate old homes or replace old pipes, wiring, insulation, etc., should contact certified asbestos contractors if asbestos is present.
Mesothelioma often takes years, even decades, to develop in a person.
Know the Symptoms for Mesothelioma
Everyone has some of these symptoms once in a while, but when they don't go away, they should be reviewed by a doctor. The sooner mesothelioma is diagnosed, the more tools patients and doctors have to fight it. Common symptoms for mesothelioma include:
Pain in the lower back or sides of the chest
Shortness of breath
Constant coughing
Unexplained weight loss
Loss of appetite
Night sweats
Before the 1980s, people who worked in these jobs may have been routinely exposed to asbestos:
Navy and Merchant Marine shipbuilders
Construction workers: plumbers, lathers, pipefitters, welders, electricians, and drywall installers
Paper mill workers
Airplane and auto mechanics
Firefighters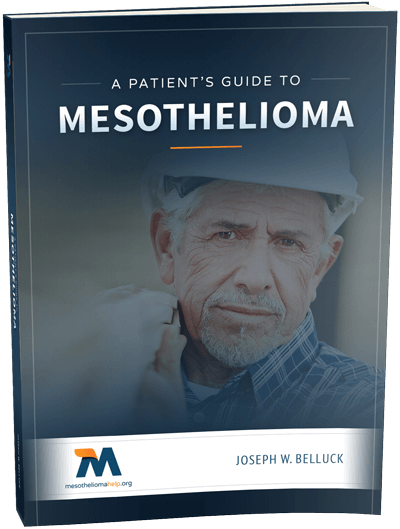 Free Mesothelioma Patient & Treatment Guide
We'd like to offer you our in-depth guide, "A Patient's Guide to Mesothelioma," absolutely free of charge.
It contains a wealth of information and resources to help you better understand the condition, choose (and afford) appropriate treatment, and exercise your legal right to compensation.
Download Now