Mavis Nye Takes Patient Empowerment to a New Level, Starts Foundation to Fund Mesothelioma Research
It has been nearly one year since Mavis Nye completed a life-saving clinical trial at the Royal Marsden in England. The 75-year-old British woman who has battled mesothelioma for the last eight years went from a frightened, sick patient lost in a medical maze, to the first UK patient to claim remission from the cancer.
Mavis fought nearly every step of the way to ensure that she got the right care at the right time that would help keep the cancer at bay and keep her alive. She has proven that a mesothelioma patient can regain her health and her life by taking control of her own care, and she showed that an empowered patient has the best chance at survival.
Throughout her fight, though, Mavis never gave up on her fellow mesothelioma warriors as she battled for care for them as well. She plans on continuing that fight for others as she takes the helm at the Mavis Nye Foundation (MNF).
"I will be leaving a wonderful legacy that was always a dream of mine to raise money for research so that I pay back for such wonderful treatment that has kept me alive!" Mavis told Mesothelioma Help.
Mavis worked with a variety of people, including Trevor Sterling, Partner for Medical Relations at Moore Blatch Solicitors of London, and one of the UK's leading major trauma lawyers, to get the foundation off the ground.
On April 27, Sterling made the following announcement on Facebook:
"A couple of years ago I read about a wonderful lady who had miraculously won her fight against Mesothelioma (an aggressive terminal cancer). She was given 3 months to live yet 8 years on she has become the most prolific asbestos campaigner. So inspired I went to meet her at the Marsden – she and her husband Ray are the most incredible people. They deserve a legacy so I am so thrilled that we have this week established the Mavis Nye Foundation."
The MNF gives Mavis a forum to continue all of the advocacy and education work she has been doing since diagnosed with pleural mesothelioma in 2009. Mavis, who received the prestigious British Citizen Award in the category of "Service to Healthcare" in January 2016, can now give back to the community that has cheered her on throughout her highs and lows.
"Mavis has turned her battle with mesothelioma into something positive, and is making her voice heard to educate people about this illness," said Angela Caulfield in her nomination of Mavis to the British Citizen Award.
Mavis Nye, BCAh, now proudly adds President, Mavis Nye Foundation to her signature block. Ray Nye, Mavis's husband who has been by her side for 57 years and has been her rock during her battle with mesothelioma, will take a place on the MNF as Vice Chairman and Trustee.
"I want people to see that you can live with a terminal illness and fight, but at the same time educate people about asbestos and the disease it causes," said Mavis.
The Mavis Nye Foundation Supports Patients, Research and the Medical Community
Mavis has always been thankful for the medical care she received, and she credits every one of the medical team members she encountered for keeping her alive far beyond her expectations. But, she also realizes that not all patients have access to such good care.
In June 2016, Mavis completed the MK3475-28 two-year clinical trial at the Royal Marsden Hospital in London where she received the immunotherapy drug pembrolizumab, known as Keytruda in the U.S. For Mavis, the results gave her a new life, and, according to a March 10, 2017 article in The Lancet, the drug is a suitable treatment option for patients with malignant pleural mesothelioma offering a "substantial duration of response."
"All I can say is that at The Marsden, and Dean Fennel [visiting Senior Lecturer in medical oncology at Bart's and Cancer Research UK Clinician], they all call me the star of the immunotherapy. Jeremy Steel [Co-Director of Bart's Mesothelioma Research] in a speech recently said that they look at my case to prove that immunotherapy can work," said Mavis.
It is this kind of response that has Mavis enthused about "funding more trials," championing research and encouraging young college students to take on a career in the medical profession with an eye towards caring for mesothelioma patients.
As president and founder of the foundation, Mavis will guide the organization to focus on three critical areas of mesothelioma: the patient, research, and the medical staff.
The MNF will offer the following support:
Financial support to UK patients diagnosed with mesothelioma or other asbestos-related diseases requiring assistance to access medical treatment, in particular, experimental medical treatment.
Grants for the advancement of laboratory and clinical research in the UK for the treatment of mesothelioma and other asbestos-related diseases.
Assist in the treatment and care of persons suffering from mesothelioma by awarding scholarships or grants for attendance at British higher education institutions for health professionals in financial need who will focus on mesothelioma nursing in the UK.
"I have so many people contacting me about the Mavis Nye Foundation it's just amazing how it has been accepted by others," said Mavis. "Charities,  support groups, and everyone is congratulating me."
Many factors can influence a patient's survival, but being empowered to find the right medical care and to proactively manage the mesothelioma is the strongest weapon in fighting the disease and improving the patient's outcome. Mavis is living proof of that, and she is not planning on giving up on herself, or others, anytime soon.
"I'm 75 now and proud to have lived this long  and I never thought 8 years ago I would," said Mavis. "My next target is our 60th wedding anniversary in 3 years time –I want to make that."
Work is ongoing to get the MNF website established and ready to accept donations. If you would like to make a donation to the Mavis Nye Foundation now, contact Mavis at [email protected].
Read more about Mavis and Ray's Journey on MesotheliomaHelp:
Follow Mavis and Ray through the following links:
A Diary Of A Mesowarrior Living With Mesothelioma
https://rayandmave.wordpress.com/2015/11/17/a-diary-of-a-mesowarrior-living-with-mesothelioma-scan-results-have-really-shocked/
Onestop Mesothelioma
http://onestopmesothelioma.co.uk/index.html
Mavis donates all proceeds of her books to Mesothelioma UK to help raise funds for mesothelioma research. Order her books at Mavis and Ray's Bookstore.
Sources :
Mesothelioma UK
http://www.mesothelioma.uk.com/
Mavis and Ray's Bookstore
http://www.lulu.com/spotlight/nyeray7070
British Citizen Award
http://britishcitizenawards.co.uk/mavis-nye/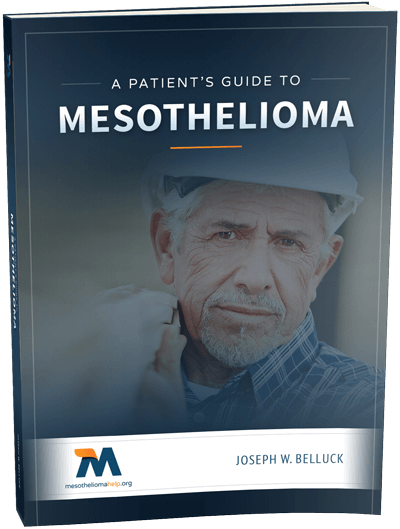 Free Mesothelioma Patient & Treatment Guide
We'd like to offer you our in-depth guide, "A Patient's Guide to Mesothelioma," absolutely free of charge.
It contains a wealth of information and resources to help you better understand the condition, choose (and afford) appropriate treatment, and exercise your legal right to compensation.
Download Now