The Man Behind the Mesothelioma Warrior: Ray Nye Discusses Caring for His Wife
Patients diagnosed with mesothelioma face a long, demanding battle involving countless doctors' appointments, extensive tests, surgeries, and chemotherapy treatments – and sometimes that is just the beginning since there are even legal matters such as estate planning. Managing the illness and all the appointments, on top of taking care of day-to-day living needs, takes the help of a dedicated caregiver.
Although most people picture mothers, wives and daughters as being caregivers, husbands and sons are now almost as likely to be a primary caregiver as their female counterparts.
Caregivers provide nearly constant care for mesothelioma patients as they endure often debilitating treatments. Caregiver duties can include grocery shopping, housekeeping, transportation, meal preparation, management of insurance forms, medical forms and prescriptions, and general care for the patient, as well as emotional support. For many caregivers, this is all done while trying to care for other family members.
Mavis Nye, of Seasalter, England who has been fighting mesothelioma for nearly five years, knows all too well how critical a caregiver is for her care and recovery. Her husband of 53 years, Ray, has been by her side throughout her battle, ensuring that she is cared for and that she doesn't have to worry about anything other than her recovery.
When asked what day-to-day duties he does for Mavis, Ray said in an email to MesotheliomaHelp that his "list" varies according to how she feels. Although he always ferries her to and from hospitals, treatments and doctors' appointments, when she is down — which usually happens for a few days during her chemotherapy treatments — Ray does nearly everything around the house. He takes over the feeding and walking of their dog, Louis, helps Mavis get dressed, and although not his strong suit, Ray even took up cooking whatever Mavis requests. But, in reality, Ray said, he does not really follow a list.
"I make it my business to do whatever Mavis asks for, whatever she needs, and if possible before she asks or even knows she wants it," said Ray.
The Reality of Caregiving
According to the Caregiver Action Network (CAN), more than 90 million family caregivers, or two out of every five adults, in the U.S. fulfill a vital role on the care team. A 2012 article in The Independent, a British newspaper, reports that in England there were 6 million caregivers in 2012, and that number is expected to grow to over 9 million by 2037. About 42% of those caregivers are men, and one in five of full-time caregivers are forced to give up work and support a family member full-time.
Twenty hours per week is the average number of hours family caregivers spend caring for their loved ones, while 13% of family caregivers are providing 40 hours of care a week or more, according to the article "Caregiving in the United States" by the National Alliance for Caregiving, in collaboration with AARP. However, most caregivers do not keep track of the time involved, and whether it is a caregiving duty or simply part of a daily routine is not important to them.
Expert Insight
Ray Nye
"I have come to terms that it's my place to do any extra work involved in caring. I don't think about it anymore, it is just natural."
A New Role for Older Men
For older men who have been in the traditional role as provider, taking on caregiving can be challenging. Not only do they struggle with giving up their jobs, or cutting down the number of hours they work, but they must quickly shift from being doted on to taking an active role in keeping the household running. For some, that can require picking up basic cooking skills or uncovering where the cleaning supplies are stored.
In Ray's case, Mavis tried to make the transition for him as easy as possible. As soon as she was diagnosed with mesothelioma, Mavis went into "overdrive," said Ray. She bought a new gas stove, because she thought their electric one was too complicated. She replaced their aging microwave with a new one so they did not have to worry about it breaking down. In addition, Ray said, "Mavis replaced saucepans, sorted all her old wardrobe and disposed of it, replaced bedding, and she even planned her own funeral."
Handing off all the work to Ray is not easy for Mavis. "I still have to fight Mavis to do jobs because she is still so independent, and feels the need to keep going. So I take note and I move in when I see I am needed."
Ray has an added role of supporting Mavis as she advocates for mesothelioma victims across the UK. With that comes a lot of appearances and appointments for Mavis, as well as requests from reporters. Ray plans out the travel plans, gets Mavis to her destination on time, makes sure she gets back home safely, and he is also her biggest fan.
"He never moans about the long days during my appearances, and he is behind me all the time as I raise awareness," said Mavis. "I can't thank Ray enough for always being there for me."
Expert Insight
Elinor Ginzler, AARP
"Caregiving men, although fewer in number, are just as dedicated, diligent and determined to help their loved one live the best life that he or she can."
Share on Facebook
Caregiving and Associated Costs
Caregiving can require serious medical care as well. According to CAN, almost half of the caregivers must perform "complex medical/nursing tasks for their loved ones – such as managing multiple medications, providing wound care, and operating specialized medical equipment."
For patients without caregivers, these tasks are typically handled by a medical professional, adding to the cost of the patient's medical care. The U.S. and British governments acknowledge that caregivers are now crucial to providing care to patients. According to recent studies, U.S. caregivers provide nearly $450 billion worth of unpaid care each year. In England, Britain's caregivers provide an estimated £119 billion ($197 billion U.S.) of care every year.
However, caring for a loved one suffering from mesothelioma can also come with an emotional cost. For many caregivers, the inability to save their loved one from mesothelioma often turns to guilt, anger and despair. Some even ask, "Why isn't it me that is sick?"
For male mesothelioma caregivers, who were sometimes the source of the secondhand exposure of asbestos that led to their spouse's cancer, that question is difficult to shake. Ray is no exception – he has that question in the back of his mind on many days. He and Mavis believe her source of mesothelioma is from washing Ray's clothes that were covered with fine asbestos dust from work at a dockyard.
"I do often wish that it was me with mesothelioma rather than Mavis — she didn't ask or deserve it," said Ray. "It should be me with it. But we can't change it."
Honoring Caregivers
Jan Egerton, who lost her over 10-year battle to mesothelioma in January, relied on her husband for many years for support and care. In a blog entry in December, Jan wrote, "To the people who love us and care for us, it is hard, it is emotional and it is wearing you out. Having to care for yourself and someone you love is a task that people don't understand unless they are doing it themselves. From the bottom of my heart I thank you for caring."
Each year in the U.S., November is set aside as National Family Caregivers Month as a time to honor and thank all the caregivers. In 2013, President Obama declared in the presidential proclamation: "During National Family Caregivers Month, we thank these tireless heroes for the long, challenging work they perform behind closed doors and without fanfare every day."
Like Ray, the men who step in to care for their wives do not even hesitate to do anything their loved one needs. For him, it is an honor and a privilege to care for someone who has always been there for him.
"Mavis has always been there for me in our relationship. There is no you or me, only us, and we help each other. I love her."
Beginning with Mavis' illness, Mavis and Ray have documented their journey with mesothelioma. Ray writes as a caregiver, whereas Mavis talks about the illness, treatments and her efforts to raise awareness of the dangers of asbestos. Below are the couples' websites where you can follow them and learn how they manage their life with mesothelioma.
OneStop Mesothelioma – Contains information and resources about mesothelioma and asbestos
http://onestopmesothelioma.co.uk/index.html
Living with Mesothelioma – Mavis's Diary
Ray's Blog
Meso Warrior – Mavis's book available on Amazon.com
https://www.amazon.com/Meso-Warrior-Mavis-Nye-ebook/dp/B004EHZXL6
Sources:
AARP – Caregiving: It's Different for Men
http://www.aarp.org/relationships/caregiving/info-07-2010/ginzler-male-caregivers.html
Britain's Army of Unpaid Carers
The Independent
http://www.independent.co.uk/news/uk/home-news/britains-army-of-unpaid-carers-being-pushed-to-breaking-point-7720677.html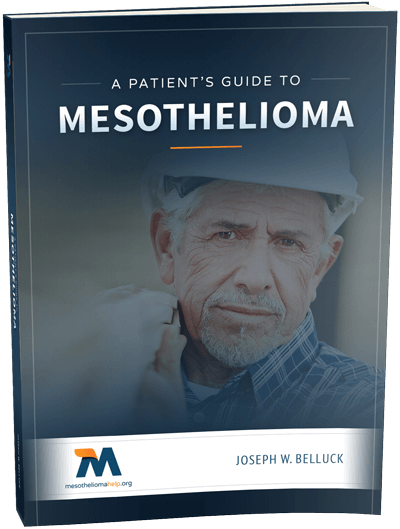 Free Mesothelioma Patient & Treatment Guide
We'd like to offer you our in-depth guide, "A Patient's Guide to Mesothelioma," absolutely free of charge.
It contains a wealth of information and resources to help you better understand the condition, choose (and afford) appropriate treatment, and exercise your legal right to compensation.
Download Now