Mesothelioma Caregivers May Benefit from 'Talking it Out'
"I had no idea that my husband would be this sick." "No one told us that he would have to go to rehab." "We never would have imagined that this would happen."
Recently when listening to a patient and his family talk, it reminded me that everyone needs to tell their own story. Just as every mesothelioma diagnosis and journey is unique, so too, is everyone's story. We all bring our own perspective and expectations with us. Whether those expectations will become reality is out of our hands.
The next time a family member, friend or co-worker asks you what can they do to help, it might help to just talk to them. Tell them your experience, tell them how you felt when the treatment plan did not go as planned, how the symptoms are progressing, or how things are going better than expected. It can give you the strength to continue.
A mesothelioma patient and his family are told beforehand what the risks and benefits of all procedures are – it is required by law. When hearing the list of risks, no one wants to think it could happen to them or to their family member. When the plan goes off course, it is doubtful that you were not told of the risks vs. benefits of the treatment plan. Rather you hoped and prayed that you or your loved one would not be whom the doctor is talking about when told of the possibilities.
When things don't go according to plan, or according to your plan, it is a good idea to take a step back and realize the caregiver may need a lot of support. Often times it is the caregiver that needs so much. This is not a time to do this alone. Let people in and tell them how you are feeling. Possibly you are scared, overwhelmed, sleep deprived and not well nourished. This all sounds so minimal but it is so important to pay attention to the caregiver and take care of them.
Trust me if the patient is in the hospital or under the care of physician he or she is well cared for. It is important to keep things in perspective and hard to if you are not well cared for. Please allow people to help. As stated before maybe you just need someone to listen to you.
Know more about Mesothelioma and how you can deal with it.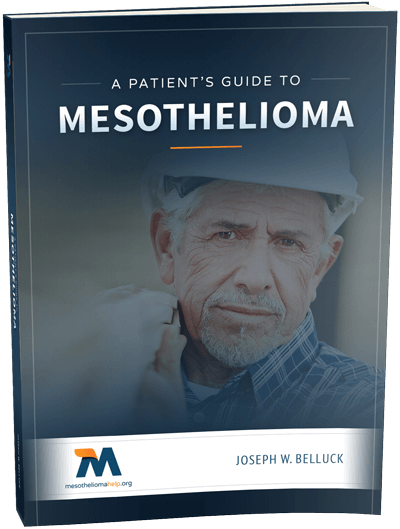 Free Mesothelioma Patient & Treatment Guide
We'd like to offer you our in-depth guide, "A Patient's Guide to Mesothelioma," absolutely free of charge.
It contains a wealth of information and resources to help you better understand the condition, choose (and afford) appropriate treatment, and exercise your legal right to compensation.
Download Now