Asbestos-Ridden Cigarette Filters May Put Some Smokers at Risk
Mesothelioma is a unique and rare form of cancer, typically affecting the lining of the lungs, caused by exposure to asbestos fibers. Individuals primarily sickened with the asbestos-related disease were exposed to asbestos in the workplace, or through unsafe demolition or renovation practices of pre-1970 structures where asbestos was used in many of the construction materials. Most recently, rescue workers at the scene of the 9/11 terrorist attacks are at risk of mesothelioma due to the high levels of asbestos in the toxic dust cloud.
One fact that has been constant in the research of mesothelioma causes is that unlike many other predominantly pulmonary-related cancers, cigarette smoking has no known causative affect on mesothelioma incidence. Although smoking does increase the chance of getting lung cancer which is sometimes confused with mesothelioma.
However, a caveat should be added to that fact – smokers of Kent Micronite filtered cigarettes between 1952 and 1956 may be at risk of developing the disease. According to the San Francisco Chronicle, Kent's ads promoted the Micronite filters as "the greatest health protection in cigarette history" because the filter removed more tar and nicotine than the competitor's filters. However, it was later disclosed the Micronite tip contained highly toxic crocidolite – "African blue" – asbestos.
A study released in 1995 by the American Association for Cancer Research (AACR) found that there was no barrier or secondary filter between the end of the filter and the smoker's mouth. Thus, the smokers inhaled or swallowed the asbestos fibers in the filters which then became lodged in their body. Because asbestos fibers are essentially indestructible, the body's immune system is powerless to break them down.
Crocidolite was the least used asbestos in commercial products, and was often used to make asbestos-cement products. However, the AACR says the blue asbestos is "implicated most strongly as causing mesothelioma."
The author's of the study concluded that the evidence strongly suggests that there is an increased risk of mesothelioma among people who smoked these cigarettes. They estimate that in just one year alone, 1954, about 550,000 packs of Kent Micronite cigarettes were sold each day. The authors further concluded that "several hundred thousand people still alive [in 1995] were exposed to substantial amounts of crocidolite from smoking this cigarette." With a latency period of 50 years or more, more mesothelioma cases may be diagnosed among the population.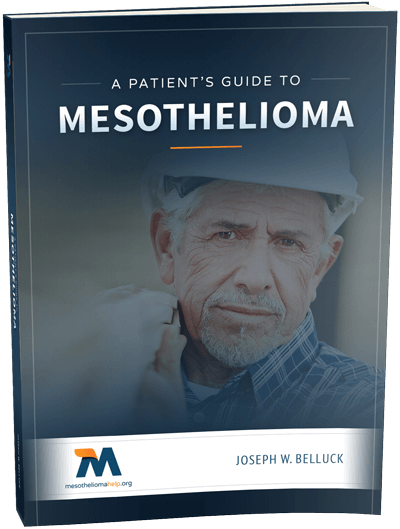 Free Mesothelioma Patient & Treatment Guide
We'd like to offer you our in-depth guide, "A Patient's Guide to Mesothelioma," absolutely free of charge.
It contains a wealth of information and resources to help you better understand the condition, choose (and afford) appropriate treatment, and exercise your legal right to compensation.
Download Now