Friends and Family Gather to Remember Mesothelioma Patient Don Smitley
Jennifer Gelsick has been writing blogs about life for her family as her father, Don Smitley, battled mesothelioma. Sadly, Mr. Smitley passed away last month. Jennifer returns to MesotheliomaHelp with a different perspective on the impact of mesothelioma. She hopes her new perspective will help those with mesothelioma live for the day and cherish every moment of life.
As I sit down to write, I am now a completely different person writing from a different place.  I have joined the part of the mesothelioma community who has lost a loved one to this terrible disease.
My amazing father, Donnie Smitley, passed away on October 15, 2013, at the age of 57. These last few weeks have been a blur for my family and for me as we attempt to adjust to this "new normal" of life without him. Don't get me wrong, I still feel him with me, just in a different way. We are coping as best we can and appreciate the expressions of love and support that we have received more than you can imagine.
The support began immediately after I got the call from my husband telling me that Dad had stopped breathing. A friend who lives close by came to be with me until Mike got home. Another friend drove us the three hours to my parent's house. Countless people brought food, sent cards and flowers, and visited us. The outpouring of love was overwhelming, but in a good way.
The days of the viewing were full of family members, friends, and acquaintances sharing condolences and wonderful stories of my Dad. It was amazing to me to see the huge number of people who recognized how special Dad really was. At the funeral, bluegrass music was sung, stories were shared, and an amazing message was delivered. The main point: Dad was a man of relationships. How true – his relationships with his family, friends, and most importantly, God.
Throughout the three days we spent at the funeral home and at the Church, I realized that with someone as amazing as Dad, we shouldn't have been surprised that God needed him back so soon. We should just be grateful that He let us keep him as long as He did. Dad was truly an angel here on earth, and now has his wings in Heaven.
Know more about Mesothelioma and how you can deal with it.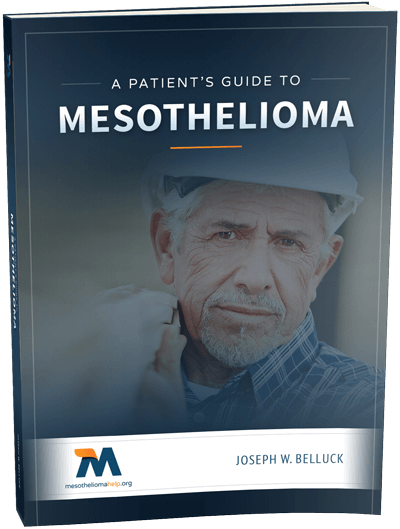 Free Mesothelioma Patient & Treatment Guide
We'd like to offer you our in-depth guide, "A Patient's Guide to Mesothelioma," absolutely free of charge.
It contains a wealth of information and resources to help you better understand the condition, choose (and afford) appropriate treatment, and exercise your legal right to compensation.
Download Now