Mesothelioma Centers of Excellence are Open for Patients
We frequently suggest to patients and patient's families to seek out a Mesothelioma Center of Excellence if diagnosed with this rare disease. For many, this includes traveling to get care at one of these centers. When the pandemic was first at its peak, a lot of travel was suspended and many just did not feel comfortable traveling away from home. For some who live locally to their Mesothelioma Center of Excellence they were able to have treatment but that was not the case for everyone.  
Each state has lifted some restrictions that were incorporated during the crisis of the pandemic, and the Mesothelioma Centers of Excellence are open. Many physicians have adapted to telehealth visits to accommodate patients during the pandemic. Thankfully, we are a world of technology and many test results, scans, and lab values can be expedited from your hometown medical center to an expert of mesothelioma, allowing a lot of preliminary work to be done prior to your arrival. 
If you are traveling to a Mesothelioma Center of Excellence, we have some suggestions:
Inquire about their protocols for arrival of appointments. Do you need to call and announce your arrival prior to coming into the office?

Can a family member or friend accompany for the visit? If not, can you call in and be placed on speaker phone while the consult is active with physician and patient?

Are you required to bring hard copies of scans, reports, etc.?

Will your visit require an overnight stay at local hospital? If so, can they help with accommodations?

Asking what you should expect during this visit. The Mesothelioma Center consists of many medical professionals. Will you meet them in person?
These are a few suggestions to make your visit more streamlined. We urge you to get to a Mesothelioma Center of Excellence as soon as possible, as this is a very aggressive disease. The medical professionals realize this is a difficult situation coupled with the world's current situation. We want you to know the centers are here for you. 
There have also been many volunteer opportunities that continue to be available to help you facilitate your treatment for your mesothelioma. For example, Angel Flights has been successful in transporting patients for treatments and returning them home. Please reach out to us or a Mesothelioma Center so we can assist you with making the connections that can help you with your disease.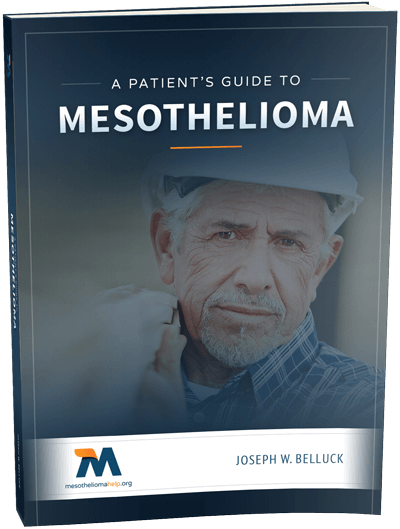 Free Mesothelioma Patient & Treatment Guide
We'd like to offer you our in-depth guide, "A Patient's Guide to Mesothelioma," absolutely free of charge.
It contains a wealth of information and resources to help you better understand the condition, choose (and afford) appropriate treatment, and exercise your legal right to compensation.
Download Now