Mesothelioma Drug Given Promising Innovative Medicine Status in the UK
Boehringer Ingelheim has announced that the UK is following in the footsteps of the U.S. in the latest designation for the company's drug nintedanib. In December 2016, the U.S. Food and Drug Administration granted orphan drug designation to the investigational cancer drug for the treatment of mesothelioma. Now, the UK Medicine and Healthcare Products Regulatory Agency has designated nintedanib a Promising Innovative Medicine for the treatment of malignant pleural mesothelioma.
The PIM designation, according to Gov.UK, is an indication that the product may be eligible for the early access to medicines scheme (EAMS) that brings medicines to patients with life threatening conditions when there is an unmet medical need. The designation was assigned based on the encouraging results of the phase II/III LUME-Meso trial, according to a Jan. 4 PharmaTimes article.
"This is fantastic news and the right decision taking into account the risk/benefit profile of nintedanib from a very credible Phase II trial," said Professor Dean Fennell, Chair of Thoracic Medical Oncology at the University of Leicester and University Hospitals of Leicester NHS Trust, UK, commenting on the decision.
Results from the LUME-Meso Trial showed "statistically significant improvements," according to Pharma Times, with mesothelioma patients treated with the drug plus chemotherapy achieving 9.4 months of progression free survival compared to 4.7 months for those patients receiving chemotherapy alone.
Nearly 2,500 cases of pleural mesothelioma are diagnosed each year in the UK. With limited effective treatment options the median survival is less than 14 months. Reports indicate that nearly 3,000 Americans are also diagnosed with the deadly cancer each year. New, effective treatments are critically important to improve mesothelioma patient survival.
To find out more about the LUME-Meso trial, see ClinicalTrials.gov.
https://clinicaltrials.gov/ct2/results?term=%22malignant+mesothelioma%22&recr=Open&pg=1
Sources :
U.S. Food and Drug Administration
http://www.mercknewsroom.com/news-release/oncology-newsroom/merck-announces-fda-acceptance-review-mk-3475-biologics-license-appli
Gov.UK
https://www.gov.uk/government/news/medical-innovation-doctors-and-patients-encouraged-to-give-views
PharmaTimes
http://www.pharmatimes.com/news/pim_status_for_boehringers_mesothelioma_drug_1215220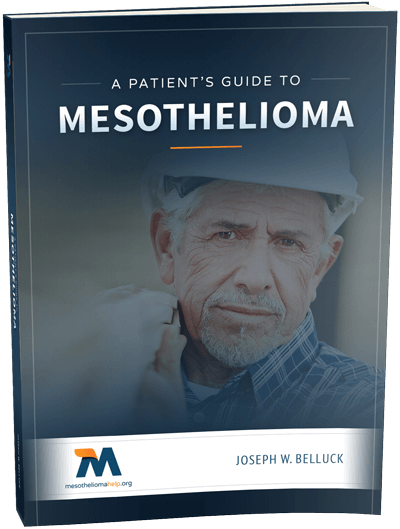 Free Mesothelioma Patient & Treatment Guide
We'd like to offer you our in-depth guide, "A Patient's Guide to Mesothelioma," absolutely free of charge.
It contains a wealth of information and resources to help you better understand the condition, choose (and afford) appropriate treatment, and exercise your legal right to compensation.
Download Now