Mesothelioma Nurse Asks Everyone to Reach Out to Someone This Holiday Season
As we close out November and National Family Caregivers Month, we give thanks to all mesothelioma patients and to those who support them. From the diagnosis through treatment, to living with a chronic condition, a serious illness is stressful and life-altering. For the patient and the family member, or support person, their relationships are forever altered. Over the years I have met outstanding caregivers and supportive friends who have seen patients through dark times and who have helped immensely in the whole mesothelioma journey.
This past week, I saw once again, the importance of relationships, support, and human interactions. Unfortunately, I saw it from the other side, from a patient who is alone and isolated. I took care of him this past week, while he was having an outpatient procedure, and I was reminded of how easy it can be in today's world to become isolated.
The man had been a successful professor who has been retired for over 15 years. He did not have a computer- not interested. He had no one to drive him to or from his appointments and he hired a car service for his transportation. He did not list an emergency contact, he had no one. He had no family or friends, and he did not know any of his neighbors.
Although my time with him was brief, the impression he made on me was profound. He was reluctant to let his team know about his situation. His family was gone, he had a distant cousin down south but he had not kept in touch with him. He was so appreciative of any kindness shown him. He was a proud, independent man, who at this point in his life, had no family or supportive relationships.
Social and emotional isolation is a growing problem in this age of technology and instant communications. It is proven that individuals with less social connections have disrupted sleep patterns, altered immune systems, more inflammation and higher levels of stress hormones.  Socially isolated, middle-aged and older people have a 30 percent higher risk of dying in the next seven years.
As we enjoy the holiday season – make it a point to look around your neighborhood, apartment building, and office and reach out to someone who might just need a kind word or a conversation to help them get through the day. The relationship you form can save someone's life and enrich your own.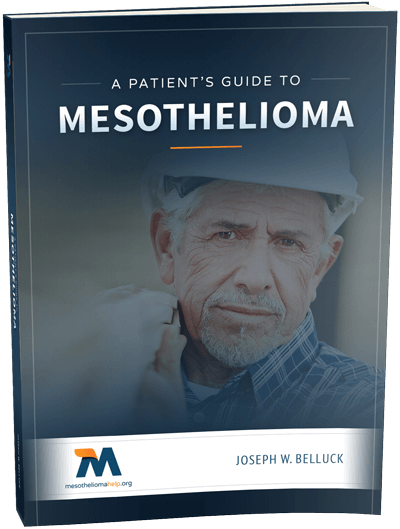 Free Mesothelioma Patient & Treatment Guide
We'd like to offer you our in-depth guide, "A Patient's Guide to Mesothelioma," absolutely free of charge.
It contains a wealth of information and resources to help you better understand the condition, choose (and afford) appropriate treatment, and exercise your legal right to compensation.
Download Now