Mesothelioma Specialists Offer Best Care, According to Nurse Lisa Hyde-Barrett
After last week's Thanksgiving holiday, I am going to write about being thankful. I am sure it does not take long for all of us to come up with a few reasons to be grateful. Of course, I am always thankful for my family, my friends, and my health. I recently had something happen to me that was not so pleasant, and I was on the other side of the fence. I was not the healthcare professional, I was the patient.
It gave me new insight into just how people must feel when they are dealing with a new medical condition. Most often, people feel out of control and uninformed when they or their loved ones are sick. Perhaps, even powerless. These feelings can be scary and overwhelming. But you don't have to feel that way.
I work in a big facility that is a world renowned mesothelioma center. Oftentimes people make comments about how aggressive we are as a medical facility. Yes, we are aggressive. We are like other facilities around the United States that are vigilant in fighting this disease. We don't give up easily, and we are in it for the fight.
There are so many mesothelioma patients who may not think about going to a specialist or they think their primary care physician can give them the best care. They are right, they will get good care. But they may not receive the newest, cutting-edge care specialists can offer who work with mesothelioma patients on a daily basis. When things are not going so well, patients can be thankful that this group of physicians nurses and scientists can brainstorm together.
I always tell patients who come to our facility that one thing is for sure –  when you go home you will know that there was no stone left unturned. This group of professionals offers every bit of treatment they can possibly offer. Some journeys are long and stressful regardless of the care you receive. I just recently visited with a patient from three and one-half years ago. Yes, he does have mesothelioma, but he is up every day thanking his lucky stars that he has another day with his family. Of course, he has his aches and complaints, as we all do. Currently, he is receiving radiation and he has started to feel relief. I know every situation is different, and not all end up so favorably. I sure am grateful that I am  associated with a top mesothelioma center that is aggressive and in it for the fight.
If you read this, please take yourself to a specialist who knows mesothelioma, and can possibly make a difference. I cannot tell you how many people I cared for that they were told to get their affairs in order, yet here they are living – three, five, even 10 years after their original diagnosis. One thing is for sure – this is your life and you deserve the best care. If you think I cannot travel because it is too expensive or you are too sick, there are avenues to help you. Just contact me and let me talk with you.
If you have questions about your mesothelioma treatment or any aspect of your mesothelioma care, feel free to contact us.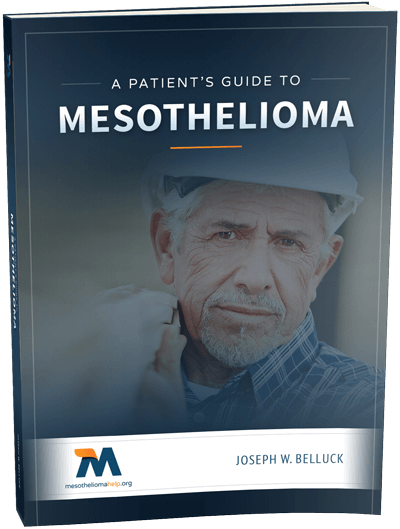 Free Mesothelioma Patient & Treatment Guide
We'd like to offer you our in-depth guide, "A Patient's Guide to Mesothelioma," absolutely free of charge.
It contains a wealth of information and resources to help you better understand the condition, choose (and afford) appropriate treatment, and exercise your legal right to compensation.
Download Now