Moving On After Loss of a Father To Mesothelioma
Once I recovered from the initial shock of Dad's death, my next question was "where do I go from here?"  How do I move on from something like this? These are questions that I am still fighting to answer, and I'm not sure that I will ever know the correct response.  All I can do is share my honest, daily struggle with you.
Every morning, I wake up wondering how I'm going to get through another day without Dad. Then, I spend some time talking to him, and that tends to make me feel a little better. As I go through my day, many things happen that I know he would love to hear about. I think that I need to pick up the phone and call him right away to share my story, but I can't. They always say that old habits die hard. I have to learn to adjust to this new way of communicating with him. It's sort of a one-sided conversation in that he doesn't answer me with words, but I still feel like he hears me and responds in a different way.
I look around and notice that the world keeps moving on, but I'm not sure how. I see people going on with their normal lives and realize that mine will never be "normal" again. My normal was having a Dad who loved me unconditionally. It's only been 22 days since he went to Heaven, but it feels like an eternity.
In short, at this point, I don't know how to give any advice on moving on, because it's not a place that I am at yet myself.  I do know that by the grace of God, I'll get there. Some days are better than others; I still have times when I break down completely, and that's ok. Everyone grieves differently.
I have to remember that moving forward is nothing to feel guilty about because I will never forget my Dad – the way he sounded, his scent, and his abounding love for me and my family are things that will never fade from my memory. He took care of everything he left behind – even his estate through his final will. Dad would want us to be able to enjoy every day just as he did and take time each day to smile and pray.
I keep remembering the saying on my Dad's coin that he always carried with him and try to take it to heart.  I hope it can also bring you some comfort and hope. "Lord, help me to remember that nothing is going to happen to me today that you and I can't handle together."
Know more about Mesothelioma and how you can deal with it.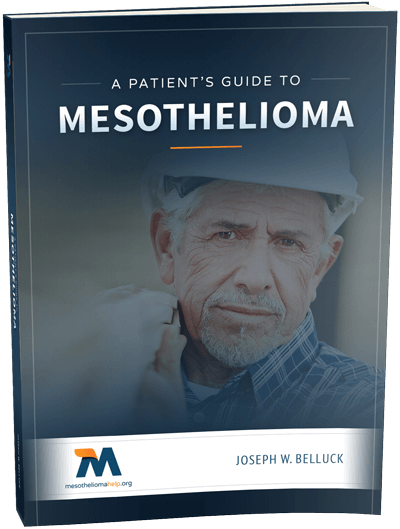 Free Mesothelioma Patient & Treatment Guide
We'd like to offer you our in-depth guide, "A Patient's Guide to Mesothelioma," absolutely free of charge.
It contains a wealth of information and resources to help you better understand the condition, choose (and afford) appropriate treatment, and exercise your legal right to compensation.
Download Now