Moving Past the Fixed State of Being a Mesothelioma Patient
Recently, when reading a blog entitled, "What was the hardest thing you went through in life and how did you get past it," by Paul Millerd, I came across a quote that struck me. While describing his health challenges, he said, "Identifying as a sick person implied I was stuck in a fixed state." When someone is diagnosed with an illness it becomes part of their identity. What part of that identity is as individual as we are. Before a life-changing or altering diagnosis, such as mesothelioma, what were your dreams, plans and aspirations? Does being diagnosed and living with a chronic disease define who you are? Life is changed, but is the disease now who you are, how you identify yourself?
This week I talked with a man who had been diagnosed and treated for mesothelioma three year ago. He looked well and said the past three years had been mostly good, but he had a few challenges that he and his wife had dealt with together. They were concerned that he had progression of disease. While we talked about what they had done the past few years, he was pleased to report they had traveled, he continues to take daily walks, and most importantly they were watching their grandchildren grow. They enjoyed each day, and each other.
His wife was concerned that mesothelioma had progressed, but neither of them identified him as "sick." In their view he was sick, better and now possibly sick again.
We all want to be remembered for ourselves. Whether that be funny, quiet, patient, kind, or whatever quality we have as individuals. I do not think anyone wants to be remembered as "the sick one." As mesothelioma becomes a chronic disease, we want to encourage people to live in the present. We cannot control the future, and the past is gone. Enjoy each day as yourself.
Mesothelioma is a devastating diagnosis, both physically and emotionally, to the victims and their families. It takes a lot of support to "live with the disease."  But there is support all around you to help you live with the disease. Do what you need to do. Join a support group, exercise if able, do whatever works for you. Move forward – don't get stuck in a "fixed state."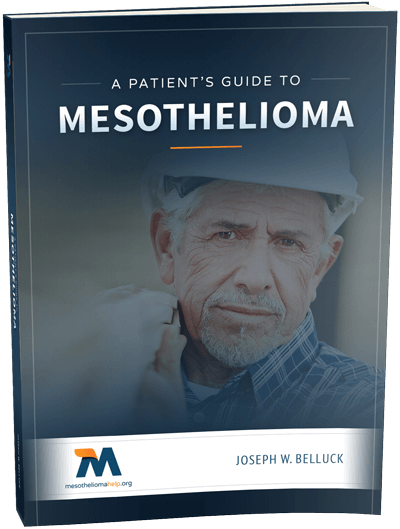 Free Mesothelioma Patient & Treatment Guide
We'd like to offer you our in-depth guide, "A Patient's Guide to Mesothelioma," absolutely free of charge.
It contains a wealth of information and resources to help you better understand the condition, choose (and afford) appropriate treatment, and exercise your legal right to compensation.
Download Now