Is Watson the Best Approach for Determining Treatment Plans?
Five years ago Watson debuted on Jeopardy! in a matchup with two of the winningest contestants from the show, Ken Jennings and Brad Rutter. Watson proved why he is a "supercomputer" by handily beating the two at the game. At the time, not many of the viewers envisioned that IBM's artificial intelligence machine would someday be important to their healthcare. Now, Watson is mainstream in TV commercials asking viewers, "How can I help you?" For a mesothelioma patient, the answer might be, "Find the most effective treatment for me."
Thanks to a partnership between New York's Memorial Sloan Kettering Cancer Center (MSKCC) and IBM, Watson Oncology may soon be the go-to reference for oncologists, helping drive cancer care for all patients. Watson Oncology's primary strength lies in the massive database fed with data from MSKCC on how their doctors treat their cancer patients. While this amount of data is nearly impossible for a doctor to analyze, Watson analyzes and assesses the information quickly, placing incredible knowledge at the doctors fingertips. For patients suffering from mesothelioma, a rare, aggressive cancer with few treatment options, Watson might just be the only way to guide oncologists to finding the best evidence-based treatment protocol.
"We are training Watson so oncologists anywhere will be able to make more specific and nuanced treatment decisions more quickly, based on the latest data," said an MSKCC spokesperson in response to a comment in an article about Watson.
What is Watson Oncology?
Watson is the result of four years of hard work in IBM's Grand Challenge: "Can a system be designed that applies advanced data management and analytics to natural language in order to uncover a single, reliable insight in a fraction of a second?" Using Jeopardy! as the ultimate test required IBM to build a machine that can interpret natural or human language that relies on the ability to relate pictures, phrases, figures, slang and nuances.
Since then, Watson has grown into a tool and resource for businesses worldwide. When MSKCC oncologist Mark Kris, MD, William and Joy Ruane Chair in Thoracic Oncology at MSKCC, realized the potential Watson could have on patient care, he led a team to build a database for Watson Oncology that could "revolutionize care and research, accelerating progress for people with cancers."
MSKCC uses their "world-renowned cancer expertise" to drive Watson Oncology to give oncologists access to "individualized treatment options that are informed by medical evidence and our highly specialized experience."
"I think this is beyond an evolutionary step," says Dr. Larry Norton, Deputy Physician-in-Chief for Breast Cancer Programs, MSKCC. "I think this is a revolutionary step."
In addition to MSKCC's work with Watson, IBM and MD Anderson Cancer Center have also partnered. The partnership builds on MD Anderson's oncologists' knowledge to help drive the center's Moon Shots program with a goal to "rapidly and dramatically reduce mortality and suffering in cancer." In much the same as MSKCC's Watson Oncology, MD Anderson's Oncology Expert Advisor is expected to provide the medical team "with immediate, worldwide access to MD Anderson's expertise and resources, and to IBM Watson's technology prowess in quickly extracting crucial insights from large volumes of complex data."
Expert Insight
Dr. Larry Norton, MSKCC
"This has the potential of totally changing the way we conduct medicine."
Watson and Mesothelioma
Having what could become a nearly infinite volume of information instantly available makes Watson incredibly valuable. Using computers to help identify how to treat a complex medical condition, like mesothelioma, can improve survival and the patient's quality of life. Having the information built by two of the most renowned mesothelioma centers in the world, can only mean excellent care for mesothelioma patients.
MSKCC is the world's oldest and largest private cancer center, and has a team of specialists including surgical oncologists, medical oncologists, radiation oncologists, pathologists, and nurses who deal exclusively with mesothelioma and other thoracic cancers. They are committed to providing the best possible treatments for patients with malignant pleural mesothelioma, and often conduct clinical trials and studies for mesothelioma as they continue to make strides in the treatment of the deadly disease.
The University of Texas M.D. Anderson Cancer Center works hard at achieving their vision of being the "premier cancer center in the world" through their initiatives in the research and treatment of mesothelioma. The cancer center has over 30 specialists on staff that supports their multi-disciplinary approach to treating mesothelioma patients. Their ongoing research and unique initiatives dedicated to finding a cure for mesothelioma makes them one of the few cancer centers in the world with a comprehensive program.
"Cognitive computing in healthcare allows us to use every step, every heartbeat, every checkup, every gene, every prescription," according to IBM. "IBM Watson Health is helping transform healthcare and leading us to new insights. Helping keep us all healthier."
To find out more about how Watson can help you in your mesothelioma care see Watson Oncology on MSKCC's website, or visit MD Anderson's Moon Shots Program online.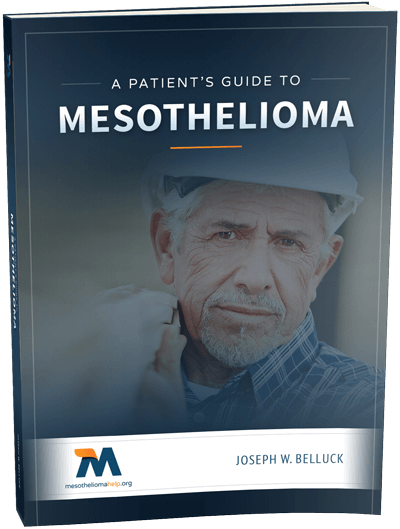 Free Mesothelioma Patient & Treatment Guide
We'd like to offer you our in-depth guide, "A Patient's Guide to Mesothelioma," absolutely free of charge.
It contains a wealth of information and resources to help you better understand the condition, choose (and afford) appropriate treatment, and exercise your legal right to compensation.
Download Now