MD Anderson Cancer Center and IBM's Watson Pair Up to Fight Cancer
MesotheliomaHelp has followed IBM's Watson from its first success in Jeopardy! in 2011 to its use in collaboration between IBM and Memorial Sloan-Kettering Cancer Center. The supercomputer that is already helping doctors diagnose and treat cancer patients is now going to support MD Anderson's Moon Shots program designed to eradicate cancer.
In an October 18, 2013 press release, IBM and MD Anderson announced MD Anderson Cancer Center will begin using the IBM Watson cognitive computing system for its mission to put an end to cancer. MD Anderson's president Ronald DePinho, M.D. used President John F. Kennedy's drive to put a man on the moon as inspiration to reduce the number of deaths from cancer, leading to the Moon Shots program.
While the Moon Shots program will focus on eight cancers including, breast, leukemia and lung cancer, the use of MD Anderson's Oncology Expert Advisor, powered by IBM Watson, will initially be used to fight leukemia. However, the successes achieved through the use of the supercomputer will especially benefit mesothelioma patients and other patients with rare cancers. Watson can access digital information dispersed throughout the world in just a matter of seconds and "integrate the knowledge of MD Anderson's clinicians and researchers."
According to the press release, the Expert Advisor will provide the tools for the MD Anderson medical professionals "to observe and fine-tune treatment plans for patients, while helping them recognize adverse events that may occur throughout the care continuum."
According to the National Institutes of Health, clinical trials are at the heart of all medical advances. Clinical trials serve to uncover better ways to treat, prevent, diagnose and understand human disease. They provide mesothelioma researchers, and all cancer researchers, with critical information needed to allow them to move their findings from the lab to patients. One way that Watson will benefit cancer patients is by providing a 'map' of all clinical trials a patient is eligible for and then identifying the best fit for the given patient.
For many cancer patients, clinical trials may offer them the best available treatment as well as the opportunity to receive new, potentially more effective therapies against their disease.
The ultimate goal for the Cancer Center's use of the Expert Advisor is "to advance the cancer center's goal of treating patients with the most effective, safe and evidence-based standard of care available."
In 2013, MD Anderson Cancer Center was named as the nation's best hospital for cancer care by US News & World Report. This was the seventh straight year for the ranking, and the tenth time in the last 12 years for the honor. According to the hospital's website, "MD Anderson's Thoracic Center cares for more patients with mesothelioma than almost any other center in the United States." In addition, mesothelioma patients at MD Anderson are treated by a specially trained support team of experts in their fields and mesothelioma. Anne S. Tsao, M.D., Director of the Mesothelioma Program is one of the leading authorities of mesothelioma in the US and is also one of the strongest advocates for taking a personalized treatment approach to mesothelioma.
3,000 Americans are diagnosed with mesothelioma each year. There is no known cure for the cancer, however, personalized care and treatment focused on each patient's specific characteristics can improve the survival and quality of life.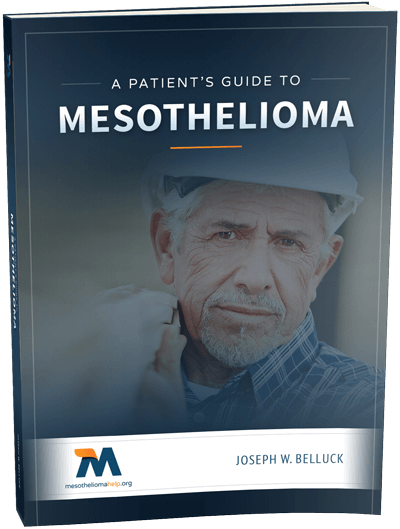 Free Mesothelioma Patient & Treatment Guide
We'd like to offer you our in-depth guide, "A Patient's Guide to Mesothelioma," absolutely free of charge.
It contains a wealth of information and resources to help you better understand the condition, choose (and afford) appropriate treatment, and exercise your legal right to compensation.
Download Now