Use of Nanoparticles in the Future May Gauge Progression of Mesothelioma, Increase Survival
Researchers have been tapping into nanoparticles, one of the newest cancer-fighting technologies, as a safe, effective means to treat cancers. MesotheliomaHelp has reported on the use of them as a microscopic drug delivery system to improve immunotherapy in mesothelioma patients. Now, one team of researchers reports they can use nanoparticles as a means to gauge whether a cancer is progressing by detecting even the smallest of tumors.
In hopes of finding an effective way to detect cancer cells in the earliest stages of metastases, researchers from Rutgers (https://news.rutgers.edu/faster-more-accurate-cancer-detection-using-nanoparticles-rutgers-led-study-finds/20171207#.WjF5q1WnHIU) University tested light-emitting nanoparticles in mice injected with human breast cancer cells. According to a Dec. 11 press release from Rutgers, the test was conducted using nanoprobes, or miniscule x-ray devices injected into the mice and carried through their bloodstream, allowing the researchers to "get a quick and reliable image of the location of affected cells in the body."
"We've always had this dream that we can track the progression of cancer in real time, and that's what we've done here. We've tracked the disease in its very incipient stages," said Prabhas V. Moghe, a corresponding author of the study and distinguished professor of biomedical engineering and chemical and biochemical engineering at Rutgers–New Brunswick.
The researchers were able to distinguish even the tiniest of lesions and tumors just three to five weeks after the mice were injected. "The nanoprobes were significantly faster than MRIs at detecting" the growing cancer cells. Vidya Ganapathy, corresponding author and assistant research professor in the Department of Biomedical Engineering, believes this can translate to months when it comes to early detection of cancer in people.
Mesothelioma, an unusual form of cancer caused by exposure to airborne asbestos fibers, often has a complex growth pattern making complete surgical removal a very difficult task. Although the goal of the surgery is to achieve a macroscopically-complete resection, which refers to the removal of all visible tumor cells, determining if that was accomplished is not always possible.
"The Achilles' heel of surgical management for cancer is the presence of micro metastases," said Dr. Steven K. Libutti, director of Rutgers Cancer Institute of New Jersey. "The nanoprobes described in this paper will go a long way to solving these problems."
The nanoparticles in this breakthrough discovery could be used to:
Detect cancer early;
Improve patient cure rates;
Improve cancer survival times;
Guide precise cancer treatment; and,
Limit cancer metastasis.
All of the above benefits are a win for mesothelioma patients who often suffer from the aggressive growth and spread of the asbestos-caused cancer. Survival times for mesothelioma patients are often limited to a year due to the inability to track the fast-growing cancer cells.
There is much more research to be done, however, the Rutgers team is hopeful that this technology will be useful on all types of cancer, including mesothelioma. They anticipate availability of the product within five years.
Read the full study in the Dec. 12 issue of the journal Nature Biomedical Engineering (https://www.nature.com/articles/s41551-017-0167-9).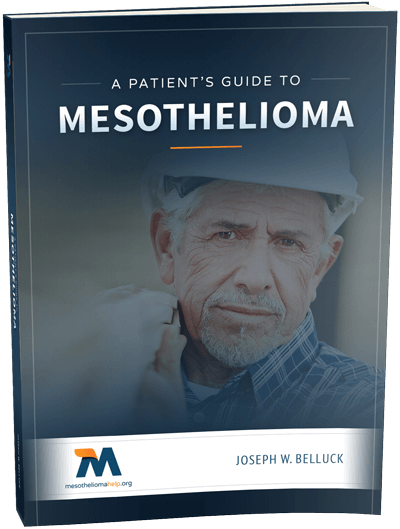 Free Mesothelioma Patient & Treatment Guide
We'd like to offer you our in-depth guide, "A Patient's Guide to Mesothelioma," absolutely free of charge.
It contains a wealth of information and resources to help you better understand the condition, choose (and afford) appropriate treatment, and exercise your legal right to compensation.
Download Now