National Mesothelioma Awareness Day is September 26
September 26 has been set aside by Congress as a day to raise the public's awareness of mesothelioma and to encourage all Americans to help raise funds to combat the deadly disease. Mesothelioma is a malignant cancer of the lining of the lung and abdomen closely associated with inhaling microscopic asbestos dust. About 3,000 Americans die each year of mesothelioma and thousands more die of lung cancer related to asbestos.
Recently, scientists and researchers have made great strides in discovering how genetics play into potential mesothelioma therapies, yet bringing a cure to patients is still years away. The research is expensive, and researchers and universities rely on public donations to support projects.
The Mesothelioma Applied Research Foundation, a national organization dedicated to eradicating mesothelioma and the suffering it causes by funding the highest quality mesothelioma research, advocates for mesothelioma patients and conducts, organizes and coordinates fundraising events across the country. The Foundation's volunteers are critical for organizing Awareness Day events.
Congress recognizes the dangers of asbestos and the need for new, effective treatments for mesothelioma. In 2010, the National Mesothelioma Awareness Day declaration was developed to address the medical needs of mesothelioma patients.
Following is an excerpt from the Congressional Declaration:
Whereas mesothelioma is a terminal, asbestos-related cancer that affects the linings of the lungs, abdomen, heart, or testicles;
Whereas workers exposed on a daily basis over a long period of time are most at risk, but even short-term exposures can cause the disease and an exposure to asbestos for as little as one month can result in mesothelioma 20-50 years later;
Whereas the National Institutes of Health reported to Congress in 2006 that mesothelioma is a difficult disease to detect, diagnose, and treat;
Whereas the National Cancer Institute recognizes a clear need for new agents to improve the outlook for patients with mesothelioma and other asbestos-related diseases;
Whereas for decades, the need to develop treatments for mesothelioma was overlooked and today, even the best available treatments usually have only a very limited effect and the expected survival time of those diagnosed with the disease is between 8 and 14 months…
Therefore, be it resolved, that the House of Representatives– (1) supports the goals and ideals of Mesothelioma Awareness Day; and (2) urges the President to issue a proclamation calling on the people of the United States, Federal departments and agencies, States, localities, organizations, and media to annually observe a National Mesothelioma Awareness day with appropriate ceremonies and activities.
The Mesothelioma Applied Research Foundation is sponsoring the Knowledge is Hope conference to be held in New York City on September 28 to mark National Mesothelioma Awareness Day. For more information on National Mesothelioma Awareness Day and the conference see www.curemeso.org.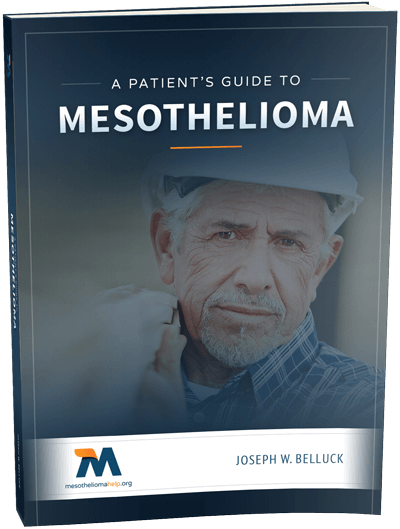 Free Mesothelioma Patient & Treatment Guide
We'd like to offer you our in-depth guide, "A Patient's Guide to Mesothelioma," absolutely free of charge.
It contains a wealth of information and resources to help you better understand the condition, choose (and afford) appropriate treatment, and exercise your legal right to compensation.
Download Now