New Report: Incidence Of Mesothelioma More Than Doubled in Ireland Since 1990s
A new report on cancer trends by Ireland's National Cancer Registry says the incidence of mesothelioma among men in Ireland has doubled since the 1990s and will continue soaring during the next decade. Mesothelioma is a cancer of the thin lining of the lungs and abdominal cavity.
Despite large year-to-year variations in the number of cases of pleural mesothelioma diagnosed on the Emerald Isle, the report says the incidence of pleural mesothelioma among men has more than doubled since 1994 from an average of 13 cases per year in 1994-96 to 36 cases in 2009. The researchers project the number of cases will increase to 68 cases of mesothelioma per year in men by 2020.
Most people encountered asbestos on the job. Approximately 97 percent of men and 82 percent of women diagnosed with mesothelioma inhaled asbestos fibers in a workplace.
Pleural mesothelioma develops in the lining of the chest cavity and is by far the most common form of the disease. Ninety four percent of the cases of mesothelioma in men and 75 percent of the cases in women in Ireland were malignant pleural mesothelioma.
Mesothelioma is largely linked to chronic exposure to asbestos in male-dominated jobs. Of the mesothelioma patients in Ireland whose occupations were documented, half were construction workers, electricians, carpenters, metal workers and woodworkers. More than five times as many men as women were diagnosed with mesothelioma. Mesothelioma is more prevalent among construction workers and workers in occupations exposed to asbestos in the United States as well.
While asbestos was used heavily in the United States starting during 1940s, asbestos was mostly used in Ireland from the 1960s to the 1980s. Ireland began phasing out the use of asbestos in the 1990s and its use was generally banned under European Union regulations in 2000. Because of the long latency period of 20 to 40 years between asbestos exposure and appearance of mesothelioma, researchers in Ireland project the incidence of mesothelioma will peak in 2020.
The majority of pleural mesothelioma patients were between 60 to 80 years of age when diagnosed. Chemotherapy has become an increasingly common form of treatment for mesothelioma. Almost 60 percent of male and female patients with mesothelioma received chemotherapy from 2005 to 2010.
Yet, pleural mesothelioma has a poor prognosis. More than 70 percent of mesothelioma patients enrolled in the cancer registray since 1994 died within one year of diagnosis.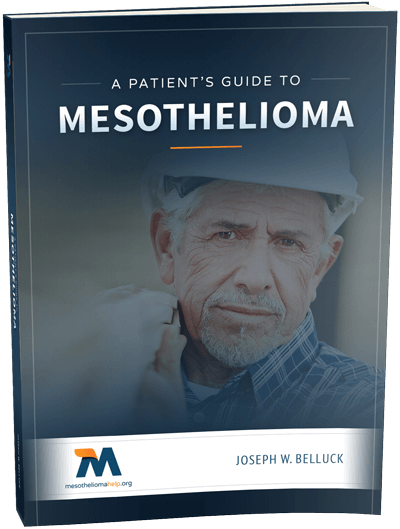 Free Mesothelioma Patient & Treatment Guide
We'd like to offer you our in-depth guide, "A Patient's Guide to Mesothelioma," absolutely free of charge.
It contains a wealth of information and resources to help you better understand the condition, choose (and afford) appropriate treatment, and exercise your legal right to compensation.
Download Now