New Year is Time for Reflection for Mesothelioma Patients
Happy New Year!
As we welcome the beginning of 2022 and the end of 2021 we reflect on how time keeps marching on. The mesothelioma community continues to be a resilient, caring group. Dealing with a life threatening rare disease along with a pandemic is challenging for patients and loved ones. 
Now that COVID-19 has been with us for almost two years, all of us are reminded about the importance of resilience and patience in taking care of ourselves and each other.
The New Year is a time of new beginnings and new promises, a fresh slate. With the New Year comes some continuing challenges such as the continued COVID-19 pandemic, the toll on the mesothelioma community, and the continued need for research for malignant mesothelioma. 
We have all seen and experienced the emotional toll that the pandemic has on all of us – how with time we have become weary and afraid. For mesothelioma victims and families those feelings are compounded by being diagnosed with a serious cancer. We started to care for people diagnosed with malignant mesothelioma decades ago, and as we continue to actively care for patients and their families who are diagnosed with this cancer daily, we are amazed at the ability of the human spirit to deal with adversity.
As we welcome the new beginning a New Year offers we are grateful for the advancements of the past years. The year 2021 saw improved survival time for patients with non epithelioid mesothelioma by using a combination of immunotherapy agents ipilimumab and nivolumab, as first line treatment. This treatment has offered options to some patients who did not have many, and is just an example of the steps towards a cure that continue to go forward.
Progress does not come in a straight line. It can be elusive. The New Year offers a chance for thanks and gratitude for continued scientific progress and hope in 2022.
We wish you all a happy, peaceful, and healthy New Year as we go forward together to face the challenges ahead.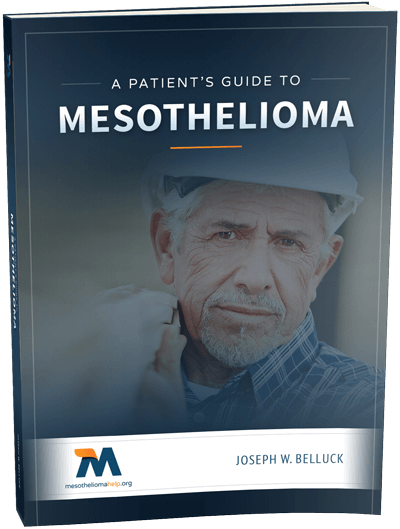 Free Mesothelioma Patient & Treatment Guide
We'd like to offer you our in-depth guide, "A Patient's Guide to Mesothelioma," absolutely free of charge.
It contains a wealth of information and resources to help you better understand the condition, choose (and afford) appropriate treatment, and exercise your legal right to compensation.
Download Now