New Mesothelioma Treatment May Result From Study Focusing on The Deadliest Subtype of Lung Cancer
In February, MesotheliomaHelp reported on research from the Mayo Clinic that pointed to the Ect2 gene as a target to slow tumor growth in KRAS-positive lung cancer and mesothelioma patients. Now, in another study, researchers believe they have found one more way to fight this deadly sub-type of lung cancer.
Researchers from Norton Thoracic Institute, headquartered at Dignity Health St. Joseph's Hospital and Medical Center in downtown Phoenix, focused their research on lung cancers expressing the KRAS and/or the LKB1 gene noting that these "mutations are associated with aggressive disease progression and poor patient prognosis, and have been historically difficult to treat."
The team looked at the use of a WEE1 kinase inhibitor, AZD1775, an experimental drug from AstraZeneca available to researchers only, as an effective treatment in the KRAS or LKB1 expressed lung cancer population. The drug could lead to apoptosis, or cell death, upon treatment with chemotherapeutic agents such as gemcitabine, cisplatin, carboplatin, according to AstraZeneca.
The team found that in a mouse model with the KRAS/LKB1 NSCLC cell lines, the combination of AZD1775 and cisplatin extended overall survival compared with cisplatin alone. In mesothelioma and lung cancer patients, cisplatin is one of the most common chemotherapy treatments used. It is often used in combination with other chemotherapeutic agents.
"In this study, we highlight a therapeutic strategy that may be effective in a group of lung cancer patients without rational therapeutic options," said Timothy Whitsett, PhD, assistant professor at Norton Thoracic Institute.
According to some reports, mutations of the KRAS gene (Kirsten rat sarcoma viral oncogene homolog) are found in 20 to 25 percent of lung cancers. These cancers do not respond well to standard treatments and are extremely challenging to treat. In a 2014 study conducted by Salk Institute researchers, the team found that lung cancer patients who have an alteration in the LKB1 gene had a "much greater rate" of metastasis.
Kinases function as drivers of a variety of forms of cancer, including mesothelioma. Many researchers have found that kinases are involved in the gradual transformation of normal tissue in the lining of the lung into malignant pleural mesothelioma after exposure to asbestos. Thus, the use of kinase inhibitors, such as AZD1775, should slow cancer growth.
Landon Inge, PhD, co-author and assistant professor, said, "We hope these findings spur new explorations for targeting this molecular subgroup, leading to better clinical trial design in the near future."
The researchers plan to continue this research to identify patients "who will most likely benefit from the use of this type of therapy, and to inform future clinical trial design by selecting lung cancer patients with difficult to treat molecular alterations."
Care for mesothelioma, a rare form of cancer caused by exposure to asbestos fiber, often follows the same protocol as lung cancer. Positive results in this study can mean positive results for mesothelioma patients. Approximately 3,000 Americans are diagnosed with mesothelioma each year. Currently, there is no known cure for the cancer.
Read the results of the study in the August 15 issue of Cancer Research.
Sources
Cancer Research
http://cancerres.aacrjournals.org/content/early/2012/04/25/0008-5472.CAN-11-3481.abstract?sid=c98a9479-15e8-43da-8088-356c133a2536
Mayo Clinic
http://newsnetwork.mayoclinic.org/discussion/mayo-researchers-identify-mechanism-of-oncogene-action-in-lung-cancer
Norton Thoracic Institute
https://www.dignityhealth.org/arizona/locations/stjosephs/about-us/press-center/press-releases/2017-08-18-researchers-discover-a-novel-therapeutic-strategy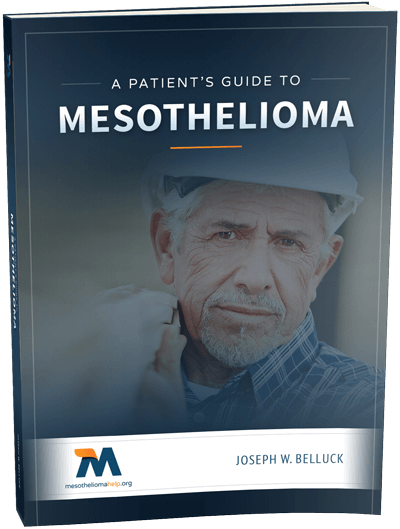 Free Mesothelioma Patient & Treatment Guide
We'd like to offer you our in-depth guide, "A Patient's Guide to Mesothelioma," absolutely free of charge.
It contains a wealth of information and resources to help you better understand the condition, choose (and afford) appropriate treatment, and exercise your legal right to compensation.
Download Now