Caring for A Mesothelioma Caregiver
One of the most difficult things in life is to see someone you love suffer. Patients who are diagnosed with malignant mesothelioma, or any cancer or life threatening illness, have a range of emotional ups and downs on their journey. The family member, spouse, partner or friend, that supports them also deals with an enormous emotional burden.
According to a statistic from AARP, approximately 44 million Americans provide 37 billion hours of care for their loved ones, whether it be sick, older or disabled people. The economic value of the services that family caregivers provide is estimated at approximately $350 billion annually.
This past week, a mesothelioma caregiver was sharing her story with me. She had notebooks full of the course of her husband's mesothelioma journey. From his diagnosis to present day she had chronicled all the events, tests, procedures and surgeries that he had been through. She was encouraging other family members to keep records as she often has to advocate for her husband. She is able to do so by referring to her notebooks to remember dates and times and the corresponding discussions. It was the wife trying to get control of an uncontrollable situation.
As the conversation progressed, we started talking about how she was handling being a caregiver. It has been difficult to watch as her husband has lost weight, been uncomfortable, depressed, and anxious. It has affected her physical and mental health. As important as her job as her husband's caregiver is, she needed to start to pay attention to her own health.
There have been studies about caregivers' health. Caregivers have increased physical ailments as compared to non-caregivers. Caregivers also have higher levels of stress, depression, emotional problems, and cognitive problems. Another study found that strained caregivers had a 63 percent greater chance of death within four years as compared to non-caregivers.
Caregiving has many positive aspects. It can strengthen the bond between the patient and the caregiver. Many caregivers feel it is one of the most rewarding experiences that they have in their lives.
What can you do for a caregiver? The gift of time, stay with the patient for a few hours. Encourage the caregiver to go out, take a walk, see a movie, anything that they enjoy. Give the caregiver support by listening to their journey, experiences, and fears. Caregiving is a difficult, rewarding job- made easier with support!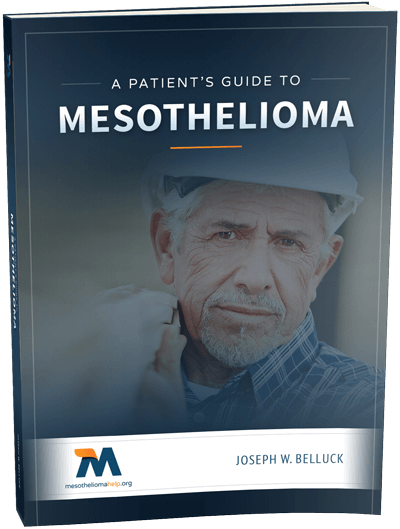 Free Mesothelioma Patient & Treatment Guide
We'd like to offer you our in-depth guide, "A Patient's Guide to Mesothelioma," absolutely free of charge.
It contains a wealth of information and resources to help you better understand the condition, choose (and afford) appropriate treatment, and exercise your legal right to compensation.
Download Now