Could Mesothelioma Caregivers Suffer From a Broken Heart?
There is an old saying that someone "died of a broken heart." Is there any truth in that saying?
A few years ago a healthy young woman was admitted to the cardiac care unit of the hospital we work at, with all the signs and symptoms of a heart attack. She had chest pain, shortness of breath and fatigue. On imaging, her heart was so weak that it had assumed an abnormal bulging shape. Testing was done and it was determined that she had not suffered a heart attack, but had a reversible cardiac syndrome.
She had been under an enormous amount of stress and had just learned of the unexpected death of her mother. It was determined that she was suffering from takotsubo cardiomyopathy, or stress-induced cardiomyopathy –  commonly called broken heart syndrome. Unlike a heart attack patient, the woman had a full and quick recovery, as do most people treated with this condition.
Is it possible to have your heart broken to the point of suffering from heart muscle failure? Takotsubo cardiomyopathy is a recognized condition that often looks and feels like a heart attack. This is a recognized heart syndrome, with symptoms including shortness of breath and chest pain. The condition develops when a person is under either extreme physical or mental stress, suffering from intense grief, surprise, or anger.
Although a rare condition, broken heart syndrome among mesothelioma caregivers is a possibility due to the fact that most are women over 50 caring for their spouses, and are under significant stress. The best way to prevent broken heart syndrome,  according to AgingCare.com, is to devise ways of coping with difficult emotions and troublesome situations.
Learning to recognize the signs of caregiver stress and making a plan for dealing with the day-to-day difficulties of caring for a loved one, are important steps. We've said it often that caregivers must care for themselves as well as their loved one. While caring for a loved one with mesothelioma can be a sad time, try to focus on something positive to lighten your heart.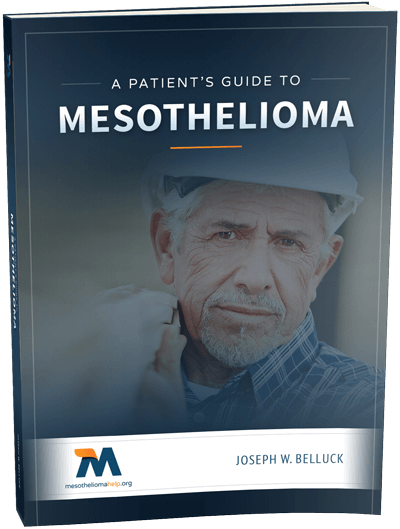 Free Mesothelioma Patient & Treatment Guide
We'd like to offer you our in-depth guide, "A Patient's Guide to Mesothelioma," absolutely free of charge.
It contains a wealth of information and resources to help you better understand the condition, choose (and afford) appropriate treatment, and exercise your legal right to compensation.
Download Now