Pairing Machine Learning with PET Scans Can Help Predict Mesothelioma Outcomes
The EJNMMI Research medical journal recently published an article entitled "FDG PET versus CT radiomics to predict outcome in malignant pleural mesothelioma patients" that outlines a study wherein 72 patients diagnosed with malignant pleural mesothelioma (MPM) at the University Hospital Zurich underwent pre-treatment FDG PET and CT scans alongside curative treatments. In the study, Swiss researchers discovered that using machine-learning radiomics models in conjunction with PET scans to track tumor progress can help doctors better predict outcomes of malignant pleural mesothelioma.
Malignant pleural mesothelioma is a form of cancer caused by exposure to asbestos and makes up 60 to 70 percent of all cases. MPM occurs when tumors develop in the lining of the lungs and chest cavity (called the pleura).
To obtain imaging that will help them diagnose mesothelioma and prescribe treatment for patients, doctors use both CT scans, which combine several x-ray scans from different angles, and PET scans, which use a radioactive tracing fluid to demonstrate tissue and organ functions.
While they did not have the same results with CT scans, the Swiss research team was able to develop a quantitative model using machine learning to more effectively analyze PET scans and predict the movement of tumors.
Because treating mesothelioma often involves varying approaches and exposes patients to many chemicals, it is critical that doctors are able to determine a course of action for each patient that is most responsive to their individual cancer. Malignant pleural mesothelioma is an aggressive cancer that spreads rapidly, so it is imperative that patients begin receiving treatment as quickly as possible.
If you or a loved one has been diagnosed with mesothelioma, reach out today for a free consultation. Our experts can assist you with medical resources as well as options for compensation from those responsible.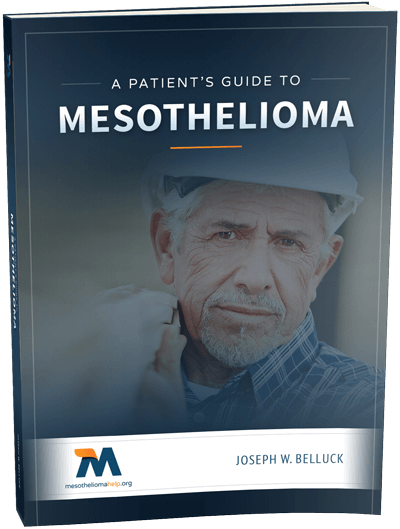 Free Mesothelioma Patient & Treatment Guide
We'd like to offer you our in-depth guide, "A Patient's Guide to Mesothelioma," absolutely free of charge.
It contains a wealth of information and resources to help you better understand the condition, choose (and afford) appropriate treatment, and exercise your legal right to compensation.
Download Now