Panel Recommends Adding Mesothelioma To Conditions Covered by 9/11 Health Program
A medical advisory panel has recommended that mesothelioma be added to the list of cancers for which 9/11 firefighters and first responders are eligible to receive compensation for treatment under the James Zadroga Act. Mesothelioma is a cancer of the lining of the lung linked to inhaling asbestos. Asbestos was among the toxic substances in the dust cloud created by the collapse of the World Trade Centers.
After reviewing the emerging pattern of 9/11 health effects in recent scientific studies, the World Trade Center Scientific and Technical Advisory Committee recommended that the federal government cover cancers affecting the respiratory and digestive systems, as well as thyroid cancer, breast cancer, eye cancer, oral cavity cancer, urinary tract cancer, mesothelioma, melanoma, leukemia, lymphoma, soft tissue sarcomas and all childhood cancers.
The 15-member panel of doctors and health experts is responsible for tracking medical studies and recommending which illnesses should be covered by the Zadroga Act. Passed by Congress in 2010, the James Zadroga 9/11 Health and Compensation Act provides $4.3 billion to monitor, treat and compensate people suffering health problems associated with the 9/11 terrorist attacks. Cancer was not initially included among the illnesses covered by the federal law.
The advisory panel, which met last week, had until today to submit its recommendations to the World Trade Center health program administrator Dr. John Howard. Howard now has 60 days to review the recommendations and decide which cancers will be covered.
According to a 2011 study in British medical journal The Lancet, New York firefighters who worked at ground zero in 2001 were 19 percent more likely to develop cancer than firefighters who were not exposed to the hazardous conditions at the World Trade Center site. The researchers analyzed health records of nearly 10,000 New York firefighters and compared the rates of cancer among the firefighters who were exposed to toxic dust at the World Trade Center and firefighters who were not at ground zero. They found 263 cases of cancer among the exposed firefighters, reflecting a cancer rate 19 percent higher than in the group not exposed.
After the advisory panel's recommendation, members of New York's congressional delegation including U.S. Sen. Chuck Schumer and Sen. Kirsten Gillibrand, and Representatives Carolyn Maloney, Peter King and Jerold Nadler sent a letter to U.S. Health and Human Services Secretary Kathleen Sebelius requesting a meeting to discuss how the agency will proceed with a decision on whether to add the various forms of cancer to the 9/11 Health Program Coverage.
Approximately 2,500 to 3,000 Americans are diagnosed with mesothelioma each year. Most are exposed to asbestos in a workplace setting. Symptoms of asbestos-related disease typically take 20 years to 40 years to appear. Asbestos was used in thousands of building material products because it adds strength and resistance to heat, but its use has limited since the 1980s.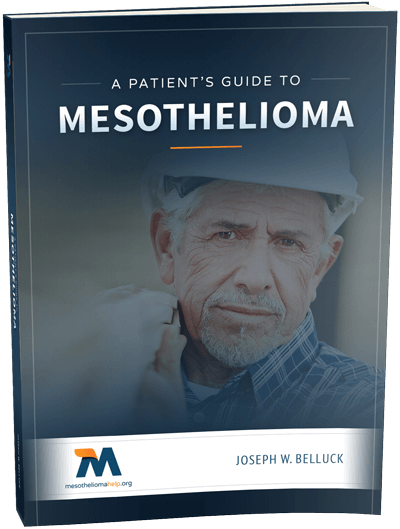 Free Mesothelioma Patient & Treatment Guide
We'd like to offer you our in-depth guide, "A Patient's Guide to Mesothelioma," absolutely free of charge.
It contains a wealth of information and resources to help you better understand the condition, choose (and afford) appropriate treatment, and exercise your legal right to compensation.
Download Now