Peritoneal Mesothelioma Tumors Need Certain Proteins To Grow
Dr. H. Richard Alexander, a highly regarded cancer surgeon and clinical researcher based at the University of Maryland Medical Center, has been systematically studying tumors removed from patients with peritoneal mesothelioma to understand better what causes the tumors' uncontrolled growth. Dr. Alexander's aim is to develop new targets for treatment of peritoneal mesothelioma.
Peritoneal mesothelioma is an incurable cancer of the lining of the abdomen caused by ingestion of asbestos particles. But there is great variability in how patients respond to the cancer, with some patients dying rapidly and others living for years. Patients typically don't notice symptoms of peritoneal mesothelioma until decades after exposure to asbestos, a mineral fiber that was widely used in building materials and is still used in limited applications.
Dr. Alexander and the researchers in his laboratory have been using sophisticated molecular techniques to analyze the proteins produced by thousands of genes and the complex molecular switches and signals that cause mesothelioma cells to grow and divide uncontrollably.
In an article in the January 2011 issue of Cancer, Dr. Alexander and his colleagues report new insights about the roles of certain cellular signaling pathways in malignant peritoneal mesothelioma. The findings may have applications not only for treatment of mesothelioma, but other cancers as well.
The researchers analyzed the gene expression in mesothelioma tumors collected from 41 patients with malignant peritoneal mesothelioma and tracked the patients' survival. They observed that the patients who died relatively quickly had high levels of certain proteins such as Phosphoinositide 3-kinases and mTOR that are involved with cell growth. The presence of certain proteins in abundance was significantly predictive of patient survival. The researchers hypothesized that the mesothelioma tumors were addicted to the proteins and needed them to grow.
To test the hypothesis, the researchers treated two lines of malignant peritoneal mesothelioma cells with agents to inhibit the proteins and observed a striking reduction in cell signaling and proliferation.
They concluded that characterizing the specific types of genes or proteins that are activated in a patient's tumor and targeting those may have significant therapeutic value in patients with peritoneal mesothelioma. Such developing medical techniques and search may eventually lead to mesothelioma cancer treatments tailored to the individual patients based on their gene profile, Alexander said.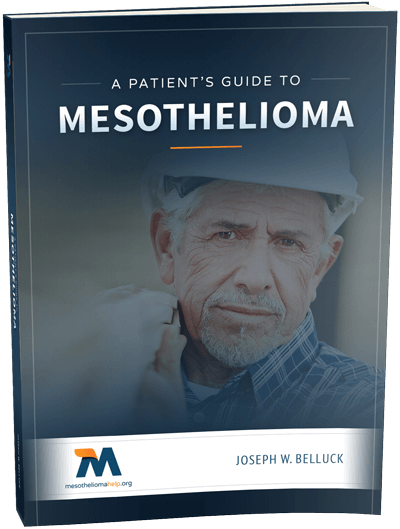 Free Mesothelioma Patient & Treatment Guide
We'd like to offer you our in-depth guide, "A Patient's Guide to Mesothelioma," absolutely free of charge.
It contains a wealth of information and resources to help you better understand the condition, choose (and afford) appropriate treatment, and exercise your legal right to compensation.
Download Now