Research Focuses on Treatments That Target Mesothelioma Tumors
For 15 years, Dr. Raffit Hassan, a clinical oncologist at the National Cancer Institute, has been researching the protein mesothelin and its use in the treatment of mesothelioma. Mesothelioma is a cancer of the lining of the chest cavity and abdomen associated with exposure to asbestos.
A protein, mesothelin is present in normal tissue. But certain types of malignant tumors including mesothelioma express high levels of the mesothelin, making it a useful target for tumor-specific drugs. The ultimate goal of the National Cancer Institute is to develop new treatments for mesothelioma and other forms of cancer.
"Mesothelioma is not a very common disease, but it's a tumor for which we really need to develop a good treatment," Dr. Hassan said during a recent teleconference sponsored by the Meso Foundation, which provides information, research funding and advocacy for mesothelioma victims.
The first drug targeting mesothelin that Hassan has studied in clinical trials involving mesothelioma patients was Amatuximab, an experimental drug developed by Morphotek, a Pennsylvania company that develops cancer treatments. The treatment is an immunotoxin,a human-made protein that is designed to bind to cancer tumor cells, then inject toxins to kill them.
"I have been working on the same project for 10 years," Dr. Hassan said. "I think we are starting to see some good results."
The drug  has been through phase I and II clinical trials and the results will be presented this summer. It has not yet been approved by the Food and Drug Administration.
The researchers are evaluating whether the drug when combined with chemotherapy drugs is more effective at controlling mesothelioma.
"The results show the drug is safe and there is activity," Hassan said. "To be really sure the drug benefits patients we'll need to do a randomized clinical trial. That will be the next step."
Approximately 3,000 people are diagnosed with malignant mesothelioma each year. Most are older workers, retired workers and veterans were exposed to asbestos dust in the workplace or during military service. Symptoms of mesothelioma typically take 20 to 40 years to appear. But the cancer is aggressive and more effective treatments are needed to control the disease and extend the lives of mesothelioma patients.
For more information about mesothelioma, click here.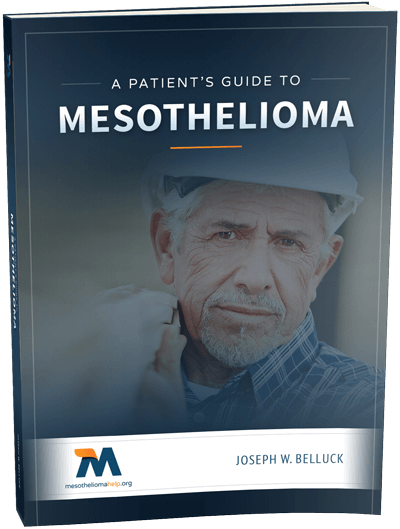 Free Mesothelioma Patient & Treatment Guide
We'd like to offer you our in-depth guide, "A Patient's Guide to Mesothelioma," absolutely free of charge.
It contains a wealth of information and resources to help you better understand the condition, choose (and afford) appropriate treatment, and exercise your legal right to compensation.
Download Now