Tool to Help Diagnose Dangerous Weight Loss in Mesothelioma Patients May Improve Survival
Mesothelioma patients face surgery, chemotherapy and radiation treatments when battling their cancer. This multi-mode approach typically offers the longest survival for patients. However, patients suffering from extreme weight loss may not see any benefit regardless of the treatments they undergo. Now, researchers want to give oncologists a tool to help them determine the extent of their patients' cachexia to make a difference in survival for these patients.
According to researchers from McGill University Health Centre (MUHC) in Quebec, nearly one-third of dangerously under-nourished patients will die because of this condition and not the cancer.
https://muhc.ca/newsroom/news/race-against-time-diagnose-deadly-weight-loss-cancer-patients
In a Nov. 4 press release from the University, the researchers report that due to the metabolic changes that take place as the patients waste away, treatment is not as easy as simply increasing food intake.
"We are losing many cancer patients, not because of their cancer, but because their bodies have undergone important metabolic changes," said Dr. Antonio Vigano, lead author of the study and Director of the Cancer Rehabilitation Program and Cachexia Clinic of the MUHC. "In other words, they have simply stopped functioning correctly."
Identifying cachexia is not as obvious as it seems, and according to the MUHC researchers, it is still "largely overlooked and untreated." Mesothelioma patients with cachexia, or a profound state of general poor health and malnutrition that leads to loss of body weight and muscle mass, according to the American Cancer Society, respond poorly to chemotherapy agents and may suffer increased toxicity from the drugs leading to poor survival. Patients suffering from cachexia typically see increased hospitalizations and are "a major burden to family caregivers," notes the researchers.
The team from MUHC looked at nearly 300 patients with GI and lung cancers. They grouped the patients into three classifications of cachexia – pre-cachexia (PCa), cachexia (Ca) and refractory cachexia (RCa) – as determined by five clinical criteria. The criteria they based the staging on were biochemistry, food intake, moderate weight loss, significant weight loss, and performance status.
Based on the results of their research, the team concluded: "Five criteria can be used to stage cancer cachexia patients and predict important clinical, nutritional and functional outcomes."  They turned their research into a tool to diagnose cachexia, which they predict could be available within the next few years.
"In order to save more lives, we need practical and accessible tools that can be effectively used by clinicians in their routine practice to identify patients with cachexia," said Dr. Vigano.
Mesothelioma is a unique form of cancer, caused by asbestos exposure, where tumors develop on the lining of the lungs. The aggressive cancer quickly leads to other life-threatening complications, including cachexia in some patients. Nearly 3,000 Americans are diagnosed with the incurable cancer.
"Cachexia gets worse with time and the longer we wait to address it, the harder it is to treat," said Dr. Vigano. "Effectively diagnosing cachexia when still in its early stages can make an enormous difference for a cancer patient's prognosis and quality of life."
For the full study, see the Oct. 2016 issue of Clinical Nutrition.
http://www.clinicalnutritionjournal.com/article/S0261-5614(16)31246-8/fulltext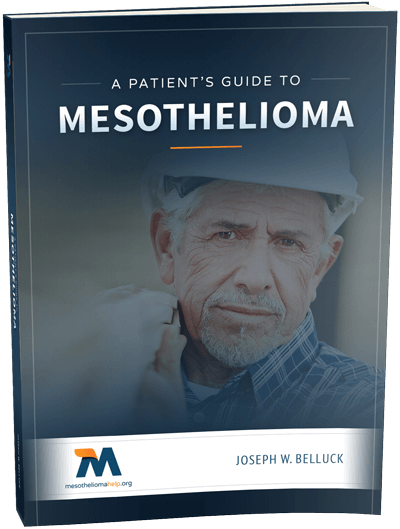 Free Mesothelioma Patient & Treatment Guide
We'd like to offer you our in-depth guide, "A Patient's Guide to Mesothelioma," absolutely free of charge.
It contains a wealth of information and resources to help you better understand the condition, choose (and afford) appropriate treatment, and exercise your legal right to compensation.
Download Now