Two Gene Therapy Approaches Pending Approval from FDA Bring Hope to Mesothelioma Community
Nearly five years ago, MesotheliomaHelp reported about a breakthrough treatment called gene therapy. At the time, it was touted as the "next frontier" in medicine, and cancer patients from around the world watched closely in the hopes that the treatment could bring a cure to even the rarest of cancers, such as mesothelioma. Now, all eyes are on the U.S. Food and Drug Administration as it is poised to approve two types of gene therapy.
The Oncologic Drugs Advisory Committee (ODAC) sent its recommendation to the FDA on July 12 for CTL019 (tisagenlecleucel) for the treatment of a form of leukemia. Then, on July 17, the FDA accepted a Biologics Licensing Application from Spark Therapeutics for gene therapy for a rare inherited eye disease that causes blindness, approved the name Luxturna for the treatment, and assigned priority status to the treatment for accelerated review.
To better understand these two pending landmark approvals and the future of gene therapy, MesotheliomaHelp turned to Ricki Lewis, a New York-based geneticist and author.
"It's not right for every disease," said Lewis. "But it is an approach that can be considered some day along with drugs, surgery and everything else."
CTL019: CAR-T Treatment for Leukemia Ramps Up the Immune System
Tisagenlecleucel is an investigational chimeric antigen receptor (CAR) T cell therapy from Novartis, developed by researchers at the University of Pennsylvania. The pharmaceutical company wants to use the therapy to treat a rare form of leukemia, B-cell acute lymphoblastic leukemia affecting children and young adults under the age of 25, according to NPR.
Lewis explains that CAR-T therapy is not "conventional" gene therapy, which has been in clinical trials to treat single-gene diseases since 1990. However, she notes that "CAR T cell technology has had astonishing success in treating a form of leukemia and it's being tested for multiple myeloma, brain cancer, breast cancer, and soft tissue cancers."
"Although both approaches deliver DNA in viruses, classical gene therapy adds a working copy of a single mutant gene, restoring a specific protein's function," says Lewis. "Revving up a not-naturally-occurring immune response isn't the same thing as replacing an enzyme," which is what Luxturna does.
According to the National Cancer Institute, in CAR-T treatment, T cells are removed from the patient's blood and genetically altered in a lab to have chimeric antigen receptors on their surface. The T cells are then multiplied, into the billions, in the lab and infused back into the patient's blood, where they seek out the cancer cells and launch a precise immune attack against them.
Lewis offers the following explanation of CAR-T:
"CAR operates like a drone, targeting and obliterating cancer cells. It introduces a gene manufactured to contain instructions for making two immune system components in one, something that doesn't exist in nature: an antibody and a T cell receptor. When delivered in a virus, the CAR enters the person's T cells, which then manufacture the hybrid (chimeric) protein.

The engineered receptor portion guides the T cells to a specific target – such as cancerous B cells – where the antibody part binds. The action alerts the immune system to respond and kill the cancer cells."
Ultimately, CAR-T, also described as a process that genetically alters a patient's own cells to fight cancer, could be used for many more diseases and cancers, and bring an effective treatment to mesothelioma patients.
In a 2013 article for MesotheliomaHelp, Lewis wrote about CAR-T treatment saying, "An ingenious technique that has vanquished leukemia in a handful of patients is also being applied to mesothelioma."
Lewis highlighted the CAR-T process being used in a mesothelioma clinical trial from the University of Pennsylvania that uses the "doctored T cells," known as chimeric immune receptor (CIR) instead of CAR, against mesothelin, a protein that is found to be in excess in mesothelioma and other cancers. The idea is that T cells led to the mesothelioma cells will attract an immune response, said Lewis.
Find out more about the mesothelioma clinical trial from the University of Pennsylvania here.
Luxturna Gene Therapy Treats Blindness, Could Lead to Treatment for Other Inherited Diseases
In her book The Forever Fix, Lewis followed the journey of the use of gene therapy to restore the vision of a young boy who was nearly blind from a hereditary disorder. The doctors added a working copy of a single defective gene in the New York boy's eyes that prevented his eyes from using vitamin A to send visual signals to his brain. The treatment was a success: the boy's vision was restored and no further treatments or surgery were required.
"Last week's FDA advisory committee's greenlight for CAR technology overshadowed a milestone for what is likely to be the first approval of classic gene therapy – for a form of inherited blindness," Lewis told MesotheliomaHelp. "That's the Leber congenital amaurosis type 2 – renamed 'RPE65-mediated inherited retinal dystrophy' – that I wrote my book about."
In an interview with Lewis last week, Dr. Katherine High, MD, President, Chief Scientific Officer, and a founder of Spark Therapeutics, said of the future of gene therapy:
"I hope we will see continued accumulation of successful clinical results in a range of target tissues and continued progress in bringing gene therapy products to licensing. When gene therapy products are licensed, there will be increased interest in the medical community, and that will help to expand opportunities."
Mesothelioma patients typically show disease symptoms years or even decades after exposure to asbestos, a known carcinogen. The cancer is eventually fatal, but aggressive therapy may prolong the lives of patients who are diagnosed early. Approximately 3,000 Americans are diagnosed with the cancer each year.
"Getting at the basis of why one person develops mesothelioma and another person doesn't, that is going to hold a clue to really fighting it," Lewis said, referring to a clinical trial conducted at Wake Forest University in 2013 to determine whether some mesothelioma patients are genetically predisposed to developing mesothelioma. "Then we will know what to do the gene therapy on."
The pending FDA approvals could bring groundbreaking treatment to cancer patients and to patients with genetic diseases. Perhaps someday, mesothelioma patients will enjoy long, productive lives through gene therapy.
The FDA is not bound to follow the ODAC's recommendations, however, the Agency nearly always follows the recommendation. Approval for CTL019 is expected in November. The FDA will decide on Luxturna in January, 2018.
About Ricki Lewis,PhD
Ricki Lewis is a science writer with a PhD in genetics. The author of several textbooks and thousands of articles in scientific, medical, and consumer publications, Ricki's first narrative nonfiction book, "The Forever Fix: Gene Therapy and the Boy Who Saved It," was published by St. Martin's Press in March 2012. In addition to writing, Ricki provides genetic counseling for parents-to-be at CareNet Medical Group in Schenectady, NY and teaches "Genethics" an online course for master's degree students at the Alden March Bioethics Institute of Albany Medical Center.
Read more about gene therapy on Ricki Lewis's DNA Science blog.
Find out more about Ricki Lewis at her website.
Sources:
Spark Therapeutics
http://blogs.plos.org/dnascience/2017/07/20/luxturna-a-giant-step-forward-for-blindness-gene-therapy-a-conversation-with-dr-kathy-high/
DNA Science blog
http://blogs.plos.org/dnascience/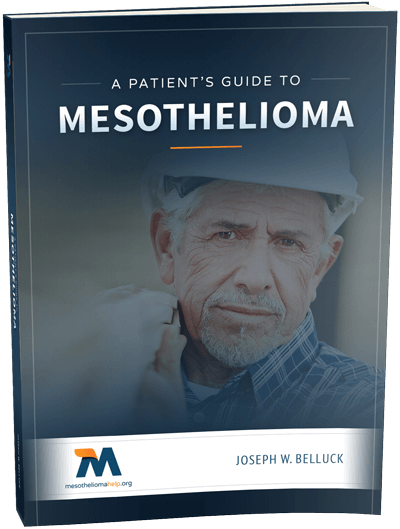 Free Mesothelioma Patient & Treatment Guide
We'd like to offer you our in-depth guide, "A Patient's Guide to Mesothelioma," absolutely free of charge.
It contains a wealth of information and resources to help you better understand the condition, choose (and afford) appropriate treatment, and exercise your legal right to compensation.
Download Now