Daughter of Mesothelioma Victim Holds Memories
A song. A simple tune that other passers-by don't even notice. A smell, wafting on the breeze. A place, so full of meaning, that sharing it with other people seems like you're telling a secret. These are all triggers for me; triggers of beautiful memories of my father. Knowing that I don't have the chance to make new ones with him, makes me protective and possessive of the ones I hold so close to my heart.
Dad loved music and he was a beautiful singer. Even though he played with his bluegrass band, most of my memories of him singing were a bit different. Yes, he always sang me "You Are My Sunshine," but there was more to it than that. I remember during our infamous Saturday morning adventures when he would sing along with me to the radio when REM or No Doubt was playing. I remember the time he went to an NSYNC concert with me, just because.
Along with music, my father was a lover of food. It didn't have to be a delicacy, in fact, he would prefer it not to be. The smell of no-bake cookies reminds me of the first time we "baked" together, unsuccessfully, may I add. How we managed to mess them up, I'll never know. The fun was in the experience.
Every time I smell a beautiful fall breeze, it takes me back to nights spent with him in the yard at our home, playing outside. Volleyball became a specialty, and during the last set of the night, we would both agree that we would go inside once the ball hit the ground. This led to bouts of hilarious laughter as we would run around, doing everything we could to make the evening last just a bit longer.
Dad and I shared so many memories in various places. Some of the memories I treasure the most are ones that I choose not to share. They are embedded deep within me; the stories that usually ended with "Don't tell Mom!" are ones that only we knew. Now, I am left to reminisce about these alone. They were our secrets, and I intend to continue keeping them.
Now, my memories of my beautiful father are all that I have left of him. This harsh truth of my new reality reminds me to treasure each day. As you walk through life, stop and think that you might be creating memories that your loved ones will carry with them for years. Live each second with that thought; if you do, you'll do a lot more living, and create a lot more unforgettable moments.
Know more about mesothelioma and how to deal with it.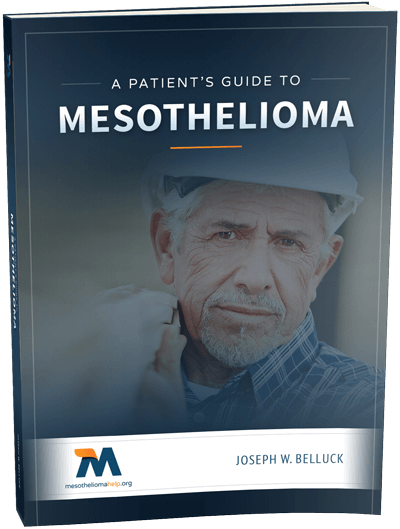 Free Mesothelioma Patient & Treatment Guide
We'd like to offer you our in-depth guide, "A Patient's Guide to Mesothelioma," absolutely free of charge.
It contains a wealth of information and resources to help you better understand the condition, choose (and afford) appropriate treatment, and exercise your legal right to compensation.
Download Now