Combination Drug Therapy Approval for Lung Cancer Opens Door For Targeted Care for Pleural Mesothelioma
Lung cancer patients with a specific genetic mutation just received good news with the approval of a combination drug treatment. The U.S. Food and Drug Administration announced in June that it approved dabrafenib and trametinib as a combination therapy for use in non-small cell lung cancer patients expressing the BRAF V600E mutation. Certain pleural mesothelioma patients may also benefit from this recent approval.
The FDA approved the two drugs from Novartis Pharmaceuticals Inc., Tafinlar (dabrafenib) and Mekinist (trametinib), based on success in a clinical trial of 93 patients with a median duration of response that ranged from six months to 12.6 months (depending on previous treatment status), according to a June 22 press release. The FDA also approved the Oncomine Dx Target Test to select those patients with NSCLC with the BRAF V600E mutation for treatment.
Novartis reports that "there is an urgency to treat people with this mutation, as BRAF V600E mutation-positive tumors have been shown to be more aggressive and may lead to a poorer prognosis." According to Novartis, BRAF mutations are in just one to three percent of NSCLC cases worldwide. One study shows that BRAF is also a rare type of mutation in pleural mesothelioma, however, for an already rare disease with few treatment options, this approval brings a glimmer of hope to patients.
"Patients with BRAF V600E mutation-positive metastatic NSCLC have responded less favorably to standard chemotherapy, suggesting that there is a critical need for a targeted therapy," said Bruno Strigini, CEO, Novartis Oncology, in a June 22 press release.
Treatment for pleural mesothelioma, an asbestos-caused cancer affecting the lining of the lungs, and non-small cell lung cancer is often similar, with chemotherapy being one of the primary treatment modes. Chemotherapy is used to manage symptoms and to slow the growth of the disease, but both cancers are notably aggressive and often develop resistance to the drugs, and, eventually, the treatment fails.
This double therapy oral treatment is another step towards personalized cancer care that could benefit those battling mesothelioma. Personalized care targeted to a patient's unique characteristics and genetic makeup, such as the BRAF biomarker, optimizes the potential for success of the treatment.
"This is an important milestone for the lung cancer community as we are continuing to better understand the genomic drivers of cancer and develop effective treatments targeted for these biomarkers," said Bruce Johnson, MD, Professor of Medicine, Chief Clinical Research Officer, Dana-Farber Cancer Institute and Harvard Medical School at Dana-Farber Cancer Institute.
This is the first approval for targeted treatment in the U.S. specifically for BRAF V600E mutation-positive metastatic NSCLC.
Talk to your mesothelioma care team to find out if this combination therapy will work for you.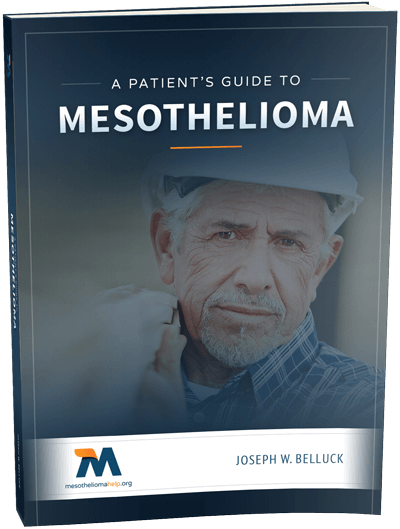 Free Mesothelioma Patient & Treatment Guide
We'd like to offer you our in-depth guide, "A Patient's Guide to Mesothelioma," absolutely free of charge.
It contains a wealth of information and resources to help you better understand the condition, choose (and afford) appropriate treatment, and exercise your legal right to compensation.
Download Now