Combination of Electric Fields and Chemotherapy May Be A New Treatment Option for Pleural Mesothelioma Patients
The key to increasing  survival for mesothelioma patients is to kill the cancer cells before they can spread to other organs. Treatment options, including surgery, chemotherapy and radiation, all contribute to a patient's survival, but many times the prognosis remains unchanged. Now, one company has turned to experimenting with delivering electromagnetic waves to the chest of pleural mesothelioma patients and reports improvements in overall survival when combined with chemotherapy.
Novocure, a UK-based medical device company that develops and markets Tumor Treating Fields delivery systems,  developed the novel devices as an alternative way to destroy tumor cells while sparing healthy tissue. Already approved by the U.S. Food and Drug Administration for the treatment of brain cancer, the  device is now in a Phase II clinical trial for pleural mesothelioma patients.
In April, researchers gave an interim review of the STELLAR clinical trial reporting that the first 42 pleural mesothelioma patients treated with the combination of Tumor Treating Fields (TTF) and pemetrexed and cisplatin or carboplatin had a one-year survival rate of 80 percent, compared to 50 percent in the chemotherapy only patients. Median progression free survival was 7.3 months versus just 5.7 months in the chemotherapy controlled group.
"We are extremely pleased with these top-line results, which bring us one step closer to realizing the potential for a new treatment for mesothelioma patients in desperate need," said Dr. Eilon Kirson, Novocure's Chief Science Officer and Head of Research and Development, in an April 17 press release.
The NovoTTF-100L device used in the clinical trial provides mesothelioma patients with a round-the-clock treatment option that allows them to maintain an active lifestyle without interference to activities such as walking outdoors, shopping, and cleaning. Connected to the patient via insulated electrode arrays placed on the upper torso, the device delivers low-intensity alternating electric fields to the region near the mesothelioma tumors. The TTF is inconspicuous and  light enough to carry to most functions and activities. The device needs to be active approximately 18 hours a day. According to the company's website there are no limiting side effects.
"Mesothelioma is the first torso indication for which Novocure will pursue FDA approval," said Dr. Kirson.
Novocure previously received a Humanitarian Use Device (HUD) designation for the use of TTF  for pleural mesothelioma. The next step is to submit a Humanitarian Device Exemption (HDE) application to the FDA. For medical devices, an HDE exempts the businesses from proving effectiveness of the device. However, the company must show that the HUD "will not expose patients to an unreasonable or significant risk of illness or injury and the probable benefit to health from use of the device outweighs the risk of injury or illness from its use, " according to the HDE application requirements.
Pleural mesothelioma, a rare form of cancer affecting the lining of the lungs, is highly aggressive and is resistant to many cancer treatments. Most often diagnoses are not made until symptoms appear and the disease has progressed to an advanced stage leaving the patient with life-threatening complications. 3,000 Americans are diagnosed with mesothelioma each year.
Sources :
STELLAR clinical trial
https://clinicaltrials.gov/ct2/show/NCT02397928
Novocure's Chief Science Officer and Head of Research and Development
https://www.novocure.com/novocure-reports-positive-top-line-results-from-stellar-phase-2-pilot-trial-in-mesothelioma/
NovoTTF-100L
https://www.novocuretrial.com/stellar-mesothelioma/living-with-ttfields/
Humanitarian Device Exemption
https://www.fda.gov/medicaldevices/deviceregulationandguidance/howtomarketyourdevice/premarketsubmissions/humanitariandeviceexemption/default.htm
HDE application requirements
https://www.fda.gov/MedicalDevices/DeviceRegulationandGuidance/HowtoMarketYourDevice/PremarketSubmissions/HumanitarianDeviceExemption/ucm563286.htm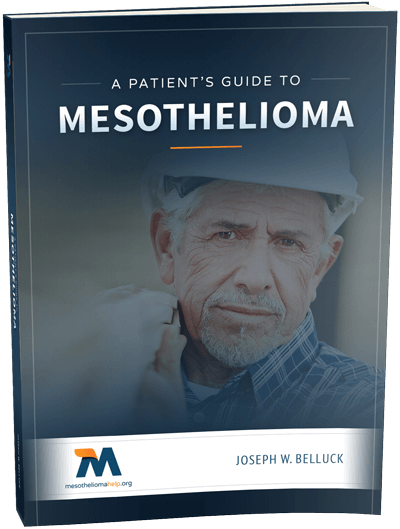 Free Mesothelioma Patient & Treatment Guide
We'd like to offer you our in-depth guide, "A Patient's Guide to Mesothelioma," absolutely free of charge.
It contains a wealth of information and resources to help you better understand the condition, choose (and afford) appropriate treatment, and exercise your legal right to compensation.
Download Now