People Around the World Mourn Passing of Mesothelioma Warrior and Advocate Lou Williams
The mesothelioma community is deeply saddened by the passing of mesothelioma warrior and the community's leading advocate, Louise "Lou" Williams of Australia. On April 18, Lou lost her nearly 15-year battle to the disease that also stole her father from her over three decades ago.
While fighting for her life, after being diagnosed with pleural mesothelioma in 2003 and peritoneal mesothelioma in 2009, Lou began a worldwide campaign to get asbestos banned from every country. Throughout her advocacy years, Lou joined efforts with Asbestos Diseases of Victoria, Asbestos Diseases Foundation of Australia, Global Ban Asbestos Network, the Asbestos Disease Awareness Organization and an untold number of patients and families to keep others from suffering the way she and her family did.
Lou did not hesitate to use petitions as a way to bring about change. She began a petition to the State of Victoria, Australia to encourage the state to join the National Asbestos Strategic Plan, and a petition to get the immunotherapy drug Keytruda added to the Pharmaceutical Benefits Scheme to allow Australian oncologists to offer the treatment to mesothelioma patients free of charge or for a negligible amount.
Expert Insight
Linda Reinstein, ADAO
"Lou will be missed beyond measure, but never forgotten."
In March 2015, when Lou thought she was on her death bed, she was given a new lease on life when she began taking Keytruda. Thanks to the drug, Lou told MesotheliomaHelp at the time, "Keytruda has given me back my life, as my body was literally shutting down."
True to Lou's mantra, "I will never, never, never give up!" she kept up her advocacy efforts even while lying in bed by sending a video of herself wishing the ADAO "all the best" as it kicked off its 13th annual International Asbestos Awareness and Prevention Conference in early April.
Linda Reinstein, ADAO Co-Founder, President and CEO, who probably knew Lou best, wrote on Facebook: "Her legacy to raise awareness, embrace unity, support efforts to find a cure, and to ban asbestos will live on in each of us."
Mavis Nye of England, who is an eight-year mesothelioma survivor and had a special bond with Lou as the two of them joined efforts to bring Keytruda to mesothelioma patients, said, "It was an awful shock when I woke up yesterday, I just burst into tears. Lou your spirit will always be with us."
"Heartbroken to hear of the passing of Lou Williams, an incredible woman and meso warrior who worked tirelessly to help others," wrote Jennifer Gelsick, who lost her father to the disease in 2013. "You are an inspiration to all who work to end this disease, and my prayers are with you and your family."
Lou leaves behind her husband, Keith, two daughters and four stepchildren, 13 grandchildren and great-grandchildren.
All of us at MesotheliomaHelp send our deepest condolences to Keith and to all of Lou's family and friends during this very difficult time.
Read more about Lou's life and her advocacy on MesotheliomaHelp.
Read Lou's story on her blog at "Asbestos – Living with Mesothelioma in Australia – Louise (Lou) Williams."
Sources:
petition to the State of Victoria
http://www.thepetitionsite.com/376/207/908/petition-the-state-of-victoria-australia-to-join-the-national-asbestos-strategic-plan
Linda Reinstein, ADAO Co-Founder, President and CEO
http://www.asbestosdiseaseawareness.org/archives/21537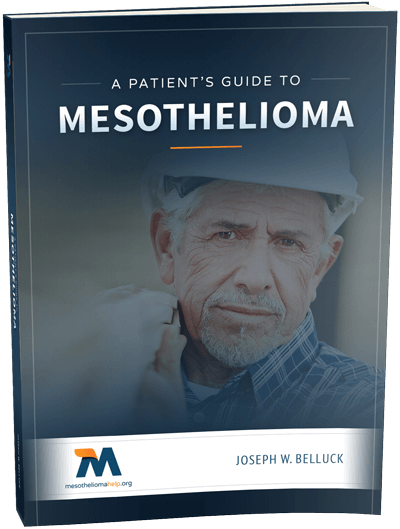 Free Mesothelioma Patient & Treatment Guide
We'd like to offer you our in-depth guide, "A Patient's Guide to Mesothelioma," absolutely free of charge.
It contains a wealth of information and resources to help you better understand the condition, choose (and afford) appropriate treatment, and exercise your legal right to compensation.
Download Now