Wyoming Hospice Nurse Takes Top Prize in Mesothelioma Scholarship Contest
Mesothelioma Help Cancer Organization is proud to award Wyoming hospice nurse Sally Whelan with the first-place prize in the cancer organization's annual Jan Egerton & Don Smitley Mesothelioma Scholarship contest. Sally was awarded $2,500 to pay for tuition as she pursues her goal of becoming a paramedic and continuing to help people in need.
In her prize-winning essay, "My Father, A Hero," Sally shared the story of her father, a World War II veteran and a captain in the Merchant Marines, who died from pleural mesothelioma when she was 17. A strong and brave man, her father struggled to keep the disease a secret from Sally and her sisters, but his suffering was all too clear.
Watching her father try to cope with the pain of the asbestos cancer ultimately led to Sally's career as a hospice nurse. In her job, Sally is able to help alleviate her patients' pain and provide support for their families. Now, she hopes to build on her abilities to help people by becoming a paramedic and serving in Haiti.
Sally recently treated her second mesothelioma patient, a man who reminded her of her father, and she had some heartfelt words for anyone coping with the same tragedy her own family faced:
"For those who have loved ones battling this disease, I say you are in one of the toughest battles of your life. Continue to educate yourselves, love each other deeply, forgive freely and remember that each day together is a gift from God."
About the Scholarship Contest
The Jan Egerton & Don Smitley Mesothelioma Scholarships are awarded each year to deserving students in colleges and universities across the country. The scholarships are named after two respected mesothelioma warriors who put up a brave fight against the devastating asbestos disease.
In total, $5,000 in scholarships was awarded this year to four outstanding students. Out of dozens of great entries, the winners were selected based on the well-researched and deeply personal essays they submitted.
The MesotheliomaHelp.org scholarships are generously funded by the nationally recognized asbestos law firm of Belluck & Fox, LLP.
"We are proud to support these deserving college students in their mission to raise awareness of the dangers of asbestos and its long-term health effects," Belluck & Fox managing partner Joseph Belluck explained. "As a law firm focused on fighting for those harmed by asbestos, we know how important it is to warn people about exposure, and we appreciate these students for sharing their personal stories and insights."
Mesothelioma and Asbestos
About 3,000 Americans are diagnosed each year with malignant mesothelioma, a deadly cancer whose only known cause is exposure to asbestos. For decades, asbestos was commonly used in many industrial, building, and household products. Still today, despite its known health effects, asbestos has not been banned in the United States.
People were typically exposed to asbestos in the workplace or during military service. Some were exposed to the deadly carcinogen in their homes.
Mesothelioma develops when microscopic asbestos fibers are inhaled and lodge in the lining of the chest wall and lungs. The cancer can develop 15 to 60 years after a person was exposed to asbestos. It is typically diagnosed in the later stages, and there is no cure.
About MesotheliomaHelp.org
MesotheliomaHelp.org is a comprehensive resource for individuals and families who are coping with a mesothelioma diagnosis. The site connects patients and caregivers with knowledgeable medical providers, respected legal professionals and the most up-to-date information on treatment developments. Visit Mesothelioma Help Cancer Organization now to learn more about the asbestos diseases and leave us a review if you've found the information helpful.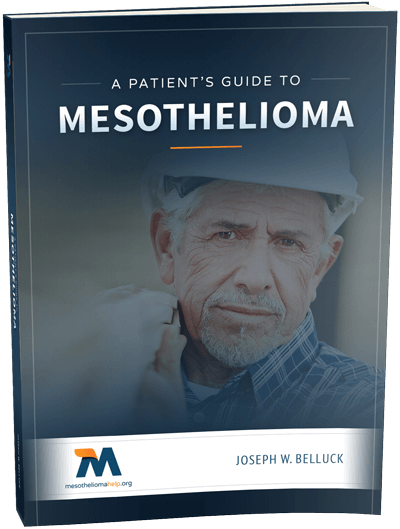 Free Mesothelioma Patient & Treatment Guide
We'd like to offer you our in-depth guide, "A Patient's Guide to Mesothelioma," absolutely free of charge.
It contains a wealth of information and resources to help you better understand the condition, choose (and afford) appropriate treatment, and exercise your legal right to compensation.
Download Now