MesotheliomaHelp.org Awards 4 Students with $5,000 Total in Scholarships
As one of the top resources for mesothelioma patients across the United States, MesotheliomaHelp.org is proud to support ambitious college students in their efforts to raise awareness of this asbestos mesothelioma cancer.
Recently, the cancer organization awarded four scholarships worth a total of $5,000 to bright young people who shared their stories as part of the organization's annual essay contest.
The Jan Egerton & Don Smitley Mesothelioma Scholarships are awarded each year to deserving students in colleges and universities across the United States. The scholarship contest is named after two much-admired mesothelioma warriors who put up a brave fight against the deadly asbestos cancer.
Out of dozens of heartfelt and well-researched essay entries, these four students took home the top prizes:
1st Place ─ $2,500
Winner: Sally Whelan, Creighton University or Laramie County Community College, Wyoming
2nd Place ─ $1,250
Winner: Kelley Ann McGill, Albany State University, Georgia
3rd Place ─ $750
Winner: Devin Marsh, Northland Pioneer College, Arizona
4th Place ─ $500
Winner: Sheri Sanford, Normandale Community College, Minnesota
Each student's prize money will go toward college tuition, with the scholarships generously funded by the nationally respected mesothelioma law firm of Belluck & Fox, LLP.
"We are proud to support these deserving college students in their mission to raise awareness of the dangers of asbestos and its long-term health effects," Belluck & Fox managing partner Joseph Belluck explained. "As a law firm focused on fighting for those harmed by asbestos, we know how important it is to warn people about exposure, and we appreciate these students for sharing their personal stories and insights."
About 3,000 people are diagnosed with malignant mesothelioma each year in the United States. The only known cause of this devastating cancer is exposure to asbestos, a naturally occurring mineral that was commonly used in countless industrial, building, and household products until the 1980s. Despite its known health effects, asbestos has still not been banned in the United States.
Exposure to asbestos often occurred on the job or during military service. Some people were also exposed to the deadly mineral in their homes. Mesothelioma can develop decades after a person was initially exposed to asbestos.
About Mesothelioma Help Cancer Organization
Mesothelioma Help Cancer Organization is a comprehensive resource for individuals and families who are coping with a mesothelioma diagnosis. The site connects patients and caregivers with specialized medical providers, recognized legal professionals and the most up-to-date information on treatment developments.
Get directions to Mesothelioma Help now to learn more about the mesothelioma cancer and leave a 5 star review if you've found the information helpful.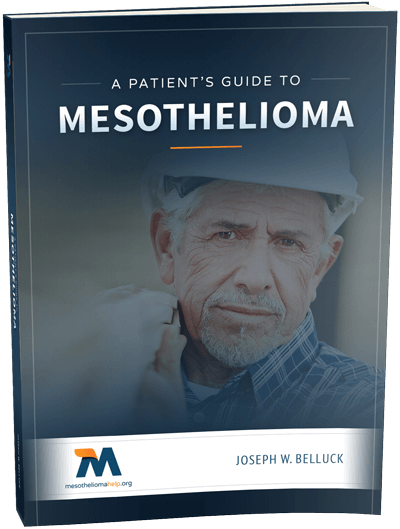 Free Mesothelioma Patient & Treatment Guide
We'd like to offer you our in-depth guide, "A Patient's Guide to Mesothelioma," absolutely free of charge.
It contains a wealth of information and resources to help you better understand the condition, choose (and afford) appropriate treatment, and exercise your legal right to compensation.
Download Now