Blood Test in Study for Predicting Lung Cancer Recurrence Could Also Help Guide Mesothelioma Treatment
In January, MesotheliomaHelp reported on the use of a Biocept, Inc. blood test as a possible early detection tool for mesothelioma. Now, the company reports it is testing the same tool to determine if it can help predict disease recurrence in lung cancer patients.
According to a July 23 press release from Biocept, Inc., the company is partnering with UC San Diego Moores Cancer Center with two clinical studies – one to predict cancer recurrence and another to predict treatment response. The studies will use Biocept's Target Selector liquid biopsy assays to detect circulating tumor cells and circulating tumor DNA. To determine accuracy of the tests, the results will be compared with findings from CT or PET scans.
Even though there have been advances in the effectiveness of chemotherapy and radiation, the two organizations note the risk for "post-resection [after surgery] disease recurrence" in stage II or stage III cancers remains "unacceptably high."  The teams collaborating on the clinical studies are looking at lung, breast and colon cancer patients with Stage II or III recurrent cancer. They hope to find a way to predict disease recurrence in high risk patients via a blood sample, using biomarkers as a guide.
"The current standard of care to assess disease recurrence is CT imaging, which may only detect recurrence after significant organ damage has occurred," said Razelle Kurzrock, M.D., Center for Personalized Cancer Therapy and Clinical Trials Office director, Moores Cancer at UC San Diego Health. "Detecting disease recurrence in these patients with a blood sample may enable more rapid and comprehensive treatment options."
When surgeons operate on cancer patients, it is with a goal to remove as much of the malignancy as possible, and to achieve a macroscopically-complete resection, which refers to the removal of all visible tumor cells. However, it is the microscopic cells that may be left behind that can thrive and spread, leading to recurrence.
Mesothelioma, an unusual form of cancer caused by the dangerous asbestos. Exposure to airborne asbestos fibers, often has a complex growth pattern making complete surgical removal a very difficult task. Use of a simple blood test that could predict a mesothelioma patient's potential for recurrence and response to treatments could mean extended survival.
"We believe that clinical results from our patented technologies can provide physicians with important information to better predict a patient's response to therapy and monitor their disease progress and recurrence, which can lead to better patient outcomes," said Biocept's President and Chief Executive Officer Michael Nall.
Although mesothelioma and  lung cancer are distinct cancers, the treatment protocol is similar. The mesothelioma community closely follows lung  cancer research in the hopes that the results translate to pleural mesothelioma care. The results of these studies will be followed closely. Approximately 3,000 Americans are diagnosed each year with the terminal cancer.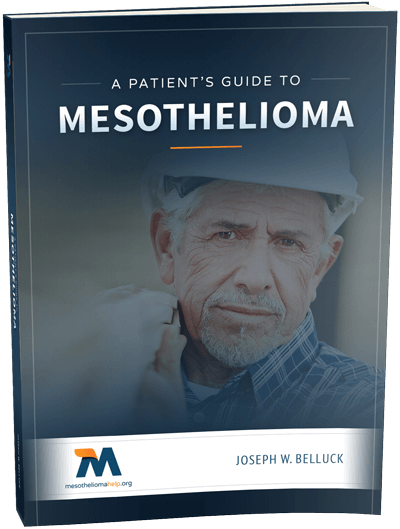 Free Mesothelioma Patient & Treatment Guide
We'd like to offer you our in-depth guide, "A Patient's Guide to Mesothelioma," absolutely free of charge.
It contains a wealth of information and resources to help you better understand the condition, choose (and afford) appropriate treatment, and exercise your legal right to compensation.
Download Now