Expression of CD10 Enzyme May Serve as Prognostic Factor for Mesothelioma Patients
Expression of an enzyme known as CD10 in malignant pleural mesothelioma tumors correlates with more aggressive cancer cell growth and shorter survival times, according to a new study published in the Annals of Surgical Oncology.
CD10 is a zinc-dependent cell surface enzyme expressed in both normal tissue and malignant tumors. Previous studies have indicated that CD10 expression in certain malignant tumors, including malignant melanoma, predicts tumor aggressiveness. Researchers led by Dr. Kyuichi Kadota of Memorial Sloan Kettering Cancer Center in New York set out to test whether CD10, which is expressed in malignant pleural mesothelioma, can be used to predict mesothelioma patient survival.
The research team looked at 176 malignant pleural mesothelioma cases among three different tumor subtypes (148 epithelioid, 14 biphasic, and 14 sarcomatoid) in order to determine negative or positive expression of CD10. Patients whose tumors showed positive CD10 expression were found to have significantly shorter survival.
"Tumoral CD10 expression correlated with aggressive histologic types and higher miotic activity and is an independent prognostic factor for patients with malignant pleural mesothelioma," write the study authors in the conclusion to "Tumoral CD10 Expression Correlates with Aggressive Histology and Prognosis in Patients with Malignant Pleural Mesothelioma."
Their finding is significant because the current best mesothelioma prognostic markers—cancer stage and cancer type—are limited in how accurately they can predict patient survival outcomes. Additional prognostic factors, the authors say, are necessary to optimize mesothelioma treatment options and to better stratify patients in clinical trials.
Treatment options for mesothelioma, a highly-aggressive form of cancer associated with exposure to asbestos, include radiation, chemotherapy, and surgery. Despite improvements, however, none of these options have proven to be particularly successful, and mesothelioma prognosis remains poor. According to the study authors, the median survival for mesothelioma patients is less than two years.
In general, patients who receive a mesothelioma diagnosis while the disease is in Stage 1 or 2 have a much better chance of successful treatment. Early diagnosis, however, can be difficult due to the disease's long latency period of 15 to 60 years and its tendency during early stages to mimic non-life threatening ailments such as the flu.
There is still no cure for mesothelioma, but new treatments have made it possible to manage it as a chronic disease, and some patients live with the disease for years. Potential new mesothelioma therapies, meanwhile, are constantly being explored. Research topics run the gamut from novel (such as gene therapy) to common (e.g. the active ingredient in vinegar).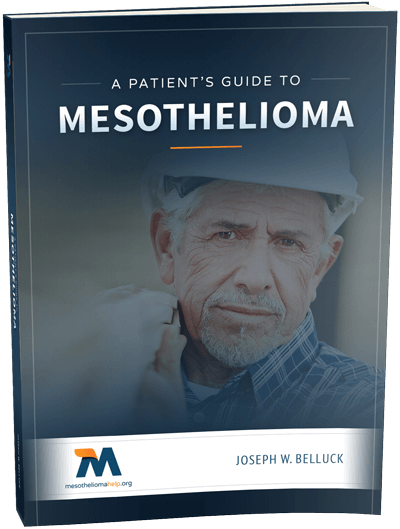 Free Mesothelioma Patient & Treatment Guide
We'd like to offer you our in-depth guide, "A Patient's Guide to Mesothelioma," absolutely free of charge.
It contains a wealth of information and resources to help you better understand the condition, choose (and afford) appropriate treatment, and exercise your legal right to compensation.
Download Now