'Hellos from Heaven' Keep Me Going
In the middle of the night last night, I woke up and instantly began to cry. My husband asked me what was wrong and I answered, "It was Dad."  In my dream, my Dad was here, but we didn't know for how long. He was singing with his band. The song was a song about faith, one that I had never heard before, but it was complete in my dream. The image and sounds are embedded into my brain.
I then went in to check on our two month old baby girl and I began to cry all over again. She looks just like Dad and sometimes, when I look into her eyes, it's like he's staring back at me. A flood of emotions overtook me; they were a combination of sadness, love, and gratitude.
Even though the sting of losing Dad remains with me at all times, reminders like those I experienced last night reaffirm that he's always with me. These little miracles tend to bring me to tears at first, but once I regain my strength, I am so grateful to have them.
They always say that God works in mysterious ways, ways that we have no way of understanding. Perhaps it's the mystery of these unexpected "Hellos from Heaven" that astound me the most. I believe that God provides these gifts to show us His love, that His hand is in everything.
Dad always talked about the beauty of the world and everyday life. What may seem like an ordinary day is full of wonder and miracles.  We just need to open our eyes to see them. So many times, we are too busy with the hustle and bustle that we forget to stop and look around. Even when he was feeling his worst, Dad reminded me that there was good in every situation.
Time is not guaranteed to any of us, and it is important to recognize that. Life is too short to spend it being inconsiderate or rude. There are far too many chances to be kind; take them. Find the good, and when you get a "Hello from Heaven" be sure to take a minute and cherish it.
Know more about Mesothelioma and how you can deal with it.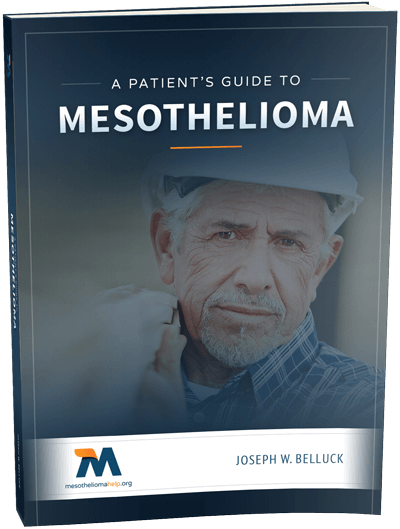 Free Mesothelioma Patient & Treatment Guide
We'd like to offer you our in-depth guide, "A Patient's Guide to Mesothelioma," absolutely free of charge.
It contains a wealth of information and resources to help you better understand the condition, choose (and afford) appropriate treatment, and exercise your legal right to compensation.
Download Now